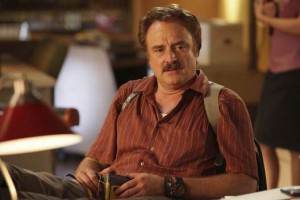 I've always found tasers to be hilarious. It probably has something to do with the fact that my best friend bought me one for my sixteenth birthday (as a self-defense aid, he said). Then again, it's probably also funny because I've never been tasered. Unfortunately, Jack Bailey is not so lucky.
Things don't get off to a good start when Dan starts licking the taser. Apparently he's not fond of them. Jack is therefore grateful when all they have to investigate is a pair of stolen bikes, which should require no force whatsoever. That is, until we realize the guy whom the bikes were stolen from owes money to his bookie…and that's where the bikes went. Of course, Dan and Jack don't know that. They discover, however, that the bikes have GPS trackers on them and follow the trackers directly to said bookie. Dan not only accidentally tases him, but grabs Jack's taser and manages to tase him with it.
As if Jack's day isn't bad enough, Liz phones to inform him said bookie is actually in witness protection. Some kid has recorded the whole incident with his iPhone, and it ends up on YouTube where the mob guys chasing said bookie slash witness see it and decide to send a hitman to Dallas. The power of the magical Internet, boys and girls. You can get stalked by a hitman thanks to some ten-year-old with an iPhone.
There are some great guest stars this week. Into all the mayhem walks Lola Glaudini (Persons Unknown, Criminal Minds), playing U.S. Marshal Justine Moreno, who is not happy they've exposed her witness. Like every other woman, she is totally put off by Dan constantly trying to hit on her. Let's cut to the hitman, Duke, who's played by actor-director Todd Louiso (aka Dick in High Fidelity). His first plan of attack is to blow up the witness's moving van. Dan somehow figures out there's a bomb and rather than protect his partner, is busy sprawling on top of Moreno, leaving Jack to try and stop Duke to no avail. Moreno's boss is not pleased, especially since her witness has gone missing in the chaos.
The Marshals put out a fake news report to say their witness is dead, to throw the hitman off his trail. (If Duke isn't too busy being nagged to death by his mother.) Moreno, Jack and Dan team up to look for the witness in the meanwhile. Said witness is off looking for the money he stashed from his bookie operation, which is where they find him. Unfortunately, the police scanner tips off the hitman. Oops. His Plan B is to get himself intentionally arrested. Dan is too concerned with his continual quest to win over Moreno, which shockingly may have actually worked when she shows up in his trailer and jumps him. (Really? Wow.)
Duke overpowers Moreno's boss in his van and strangles the witness's location out of him. He then runs Moreno and her witness off the road and rolls their car down a hill, knocking everyone around. He's about to pull the trigger…and we cut to Dan mauling an already crappy Air Supply song. Jack convince Dan to call Moreno and tell her how he feels, and she's able to tell him that the Duke has her witness. The witness has taken Duke with him to reclaim his money, finding the guy that stole it from him. A confrontation ensues. Jack and Dan roll up on the scene for the now-obligatory gunfight sequence (Jack sliding his way down a flight of stairs while armed is particularly cool). This one is short-lived, as Dan gets taken hostage. Jack's solution? Tase Dan and the Duke gets it since he's holding on to Dan. Plus, he gets the enjoyment of getting his partner back for that tasing at the beginning of the episode.
Duke rolls on his boss, becoming an informant himself. Two days later, the witness gets deposed by the ACLU in their suit against Jack and Dan for tasing him. Seeing as they saved his life, he keeps his mouth shut. And Dan, being Dan, has already moved on to the next woman he can hit on. Was anyone surprised? It's a typical episode, by which I mean by any other show's standards, it's weird and quirky and some people don't get it. This is a sign that Matt Nix and Company are doing their job, because this whole show is weird and quirky and some people still don't get it. Personally? Any show that gives me Lola Glaudini, Todd Louiso and a chance to laugh at people getting tased is a good show.
That's the end of the first half of our season, but don't worry — The Good Guys will be back on Fridays in September, starting September 24th, where it will be paired with my favorite show, Human Target. That ought to be interesting…