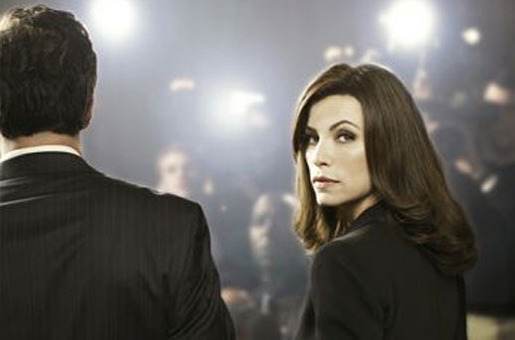 Legal-based shows are hit and miss nowadays. You have the immensely popular Law & Order franchise (which has spawned multiple spin-offs) and then you have shows like Justice, which I loved, but which was canceled after only about 12 episodes.
So it's refreshing to see the new Julianna Margulies' drama, The Good Wife, doing so well in the ratings. Our own Valerie David wrote a review of the pilot a few weeks ago. Both of the first two episodes of the show have pulled in over 13.5 million viewers, even recently
beating out Dancing with the Stars and winning its timeslot for the last two weeks.
I will admit that I haven't been a huge fan of Julianna Margulies. Not because I think she's a bad actress, but because I just haven't watched the shows she has been in. The plot of this series drew me in, however. In this day and age of political scandals, one does wonder how the wives of disgraced politicans can actually stand by their husbands.
The Good Wife could take the easy way out and just be another procedural courtroom drama, but the sub-plots, including Chris Noth's former Attorney General who's been jailed for abusing his office and leaving his wife humiliated and forced to return to work, is an excellent prop-up to the usual case-of-the-week that Margulies' Alicia has to deal with. My friend Cindy thinks the show is fantastic: ""The show is well acted and provides a good background drama in addition to new and exciting cases every episode". We're both lawyers (well, I'm a former one anyways), so the fact that there's actually a legal show out there that isn't making us cringe is a good sign. The supporting cast, including Noth and Christine Baranski, as a lawyer at Alicia's new firm, is excellent as well. Noth can play the selfish jerk very well (witness many moments as Mr. Big in Sex and the City).
The viewing audience seems to agree. The Good Wife is holding steady in the ratings, giving CBS a nice boost on Tuesday nights. Here's hoping that this entertaining drama is here to stay.