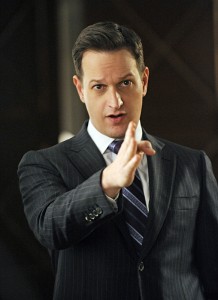 The Good Wife returns tonight after a Super Bowl/Grammys induced break and a friendly mock trial could turn serious, as Will (Josh Charles) and Diane (Christine Baranski) face off against Alicia (Julianna Margulies) and Cary (Matt Czuchry) as they prepare for a big case. Eli (Alan Cumming) is also facing a challenge as he continues to do battle with the Justice Department, but now he has a new weapon in his arsenal; Elsbeth Tascioni (Carrie Preston)!
In the last episode it all ended on a rather tense note, as Diane reprimanded Alicia for how she responded to the not so genuine way that Alicia was offered partner. Alicia felt manipulated by both Diane and Will and this mock trial will give the perfect chance to beat them both in a 'pleasant' manner. They're all lawyers so a competitive streak is expected and even if Will and Diane want Alicia and Cary to go at them hard, they won't want to lose either. Alicia might feel like she has something to prove and of course Cary and Will have a turbulent past, this will only add to the mix.
One story that hasn't been visited this season so far is the romantic history between Will and Alicia and while their break-up was one of the most civil that I have seen on TV, these feelings could get bought up tonight. Passion can come in many forms and it is a classic TV trope for an argument to lead to another kind of emotion and the promo below hints at this possibility. Furthermore, the costume department don't just put Alicia in red because the color suits her; it is a strong visual statement and is often meant to show the strength of this character.
This plot not only allows us to see a case explored in a new way (the only mock trial we have previously seen was back in season 1 and featured Will as a judge), but it also gives a platform for the recent office politics to come to the forefront. I am also looking forward to seeing more of Cary and his relationship with Alicia has developed into one of The Good Wife's strongest.
It is guest star central with Eli tonight as his issues with the Justice Department threaten his position within Peter's (Chris Noth), especially as Jordan (T.R. Knight) is showing what an asset he can be. Eli is being represented by Elsbeth Tascioni, but Agent David LaGuardia (Hamish Linklater) has guest star Kyle MacLachlan playing his lawyer Josh.
Watch a promo for tonight's episode "Red Team, Blue Team" below.
http://www.youtube.com/watch?v=afaSL_Vz1Wk&hl=en_US&version=3