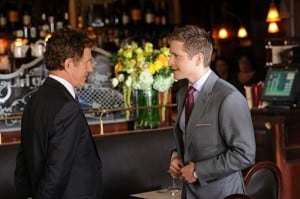 John Shea has previously played Lex Luther, father to Blair Waldorf and now he is appearing on The Good Wife as Nestor Agos. Nestor is Cary's (Matt Czuchry) father and the pair will have an uneasy reunion on the Sunday, November 11 episode "Anatomy of a Joke." Christina Ricci also guest stars, as a comedian who is being sued for indecency.
One criticism (besides the Kalinda/Nick plot) that has been levelled at The Good Wife this season is that Cary has been underused, even though he is now back at Lockhart Gardner. The past two episodes have included more Cary, especially as his friendship with trustee Clarke Hayden (Nathan Lane) has grown. On Sunday's episode Diane (Christine Baranski) got Cary to find out why Hayden was calling everything crap (turns out that he is reading Steve Jobs' biography). Diane in return got Cary a couple of criminal cases, as he mentioned that since he has returned Will (Josh Charles) has yet to give Cary one (does he still hold a grudge after the Grand Jury?).
Now Cary is going to Washington D.C. with Alicia (Julianna Margulies) to advocate for a comedian who is being sued by a television network for indecency. It is here that Cary will also meet up with his father and it will be a rather awkward reunion. The Alicia/Cary dynamic is one that has always been fascinating and they have come a long way from being rivals in season one, so I think it is only appropriate that Alicia will be on this trip with Cary.
Christina Ricci is playing Therese Dodd, the comedian who is being sued and there is a certain 'ripped from the headlines' quality to this story (I'm thinking Janet Jackson and the Superbowl). This being The Good Wife I'm sure they will put their own spin on the case. We will also see the return of F. Murray Abraham as lawyer Burl Preston, who is always more than happy to grumble about the cold weather that meets him when he deals with Lockhart Gardner.
Are you looking forward to finding out more about Cary?
Watch a promo for "Anatomy of a Joke" below and use the arrows above to browse through the photos. For more season 4 news, photos and videos check out our Good Wife page.
http://www.youtube.com/watch?v=L-AKMAHflQw&version=3&hl=en_GB