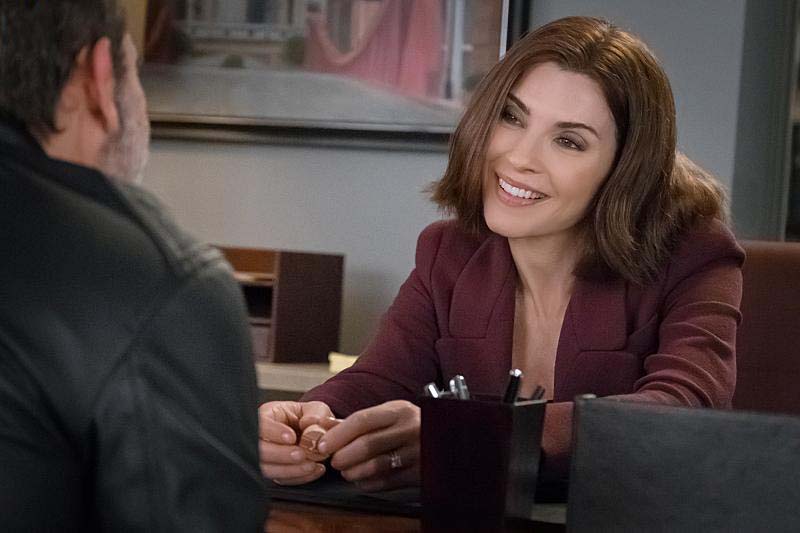 The Good Wife aired the first of its last nine episodes last week. Alicia (Julianna Margulies) is back working for the firm that has caused her a lot of heartache over the years, but she seemed to be in good spirits on her first day back. Maybe because this time she brought her new and cool sidekick Lucca Quinn (Cush Jumbo) with her. The next new episode, which will air Sunday at 9 PM on CBS, has two great moments according to the preview that aired during last week's closing credits. If you forgot what happened (or if your DVR cut off like mine did), TV Overmind was able to find the clip for you on YouTube. Check it out below:
Can you guess the two moments I am excited about? Well, Carrie Preston is back reprising her role of Elsbeth Tascioni. It has been over a year and a half since Alicia and Elsbeth have crossed paths, so it is awesome to see her return at least one last time before the series ends. However, it appears she is with Peter (Chris Noth) during her scenes. If wishes do come true, Preston will appear in the series finale too. She did an Emmy for her performance in 2013, so I can't be the only one who enjoys the character.
The second moment I am anticipating is the one between Alicia and Jason. Things are continuing to escalate between them. Even though the clip is very short, it depicts the two of them in a hotel room sharing another passionate kiss!
Sadly, Cary (Matt Czuchry) is barely featured in the teaser. This seems to be a trend with his character this season. After Kalinda left at the end of season six, it appears that the writers have forgotten that Cary even exists. Even in the video below, which shows promotional pictures for the upcoming episode "Target," Cary is only depicted walking through a busy office. The photos do illustrate that Peter is back, so we may get to learn a little bit more why the FBI is looking into him.
https://www.youtube.com/watch?v=o3FHcgWuLAk
Will you be watching The Good Wife on Sunday? Let us know in the comments section below.
Photo by: CBS