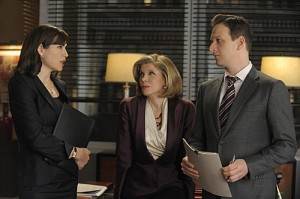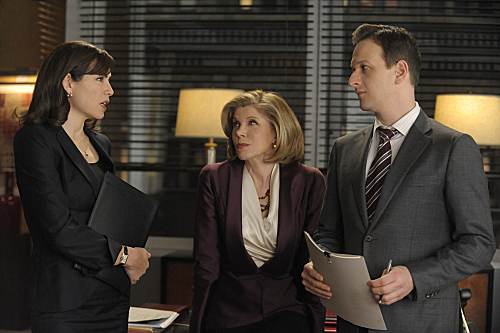 This season, The Good Wife has been firing on all cylinders. Not only are the ongoing story arcs (like the Will-Alicia-Peter relationship debacle and Wendy Scott-Carr's pursuit of Will for fraud and bribery) top notch, but the individual cases of the week have also been very compelling.
Tonight's new episode of The Good Wife, titled 'Live from Damascus', once again combines the story arc with an interesting case. At the end of it, you're left with a genuine question about what will happen next, because when the dust settles, not everyone will be left standing.
Let's begin with the Will storyline. Tonight's episode picks up immediately where the last one left off. Wendy failed to get an indictment against Will, but told Peter she would turn the evidence over to the Bar Association so they could take their own disciplinary action against Will. Peter dismissed her after her failure in court, but told her to do what she needed to do with the Bar Association. That night, a party was in full swing at Lockhart-Gardner, celebrating Will's recent success. This is where the action picks up.
First, two familiar faces return. Rita Wilson reprises her role as lawyer Viola Davis, representing her client Neil Gross, the owner of software company Chum Hum. Diane has summoned them to the office because of a case the firm is working on. Chum Hum is being sued because the company allegedly sold software to the Syrian government that allowed them to dig into private emails belonging to protestors. In turn, the government and the Syrian intelligence agency was able to identify, detain and torture several protestors. Including three American protestors, whose family members have come to Lockhart-Gardner to sue Chum Hum for their part in the situation. Naturally, Viola denies everything and suggests that Lockhart-Gardner is only doing this to further the interests of Patric Edelstein, who wants to disgrace his largest competitor: Chum Hum.
Jonathan Groff (most recently seen on Glee and Broadway) guest stars as Jimmy, the brother of one of the deceased protestors. The case continues in court, with Will taking the first chair position while Alicia and Caitlin back him up. It's interesting to see how the case develops (including unexpected information from Viola), while Kalinda communicates with a friend and protestor back in Syria who is trying to obtain more information for her.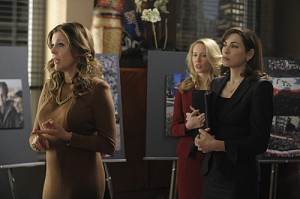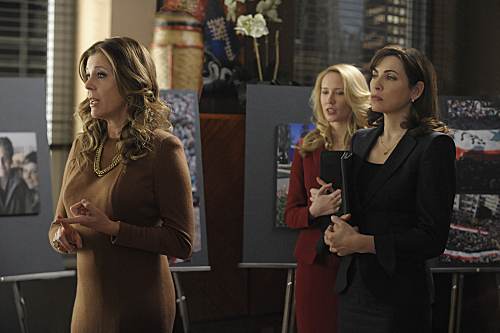 Meanwhile, three big developments happen with regards to ongoing story arcs. First, Cary announces that there will be a reshuffling in the State's Attorney's Office as a result of Wendy's recent loss. Let's just say that this news particularly impacts Dana. While not a lot of time is spent on this storyline, I suspect it will be important for the future.
Second, Eli reunites with his ex-wife, played by Parker Posey. He confronts Vanessa about hiring Stacey to consult on her campaign. When Vanessa insists that she did it because Eli turned her down, Eli is forced to make a choice about whether he'll get back into the game and help Vanessa with her campaign.
Third, and most importantly, Wendy does turn her evidence over to the Bar Association. Will is warned by one of the disciplinary committee members that they will be pursuing action against him. But Will is given a choice that will impact his career in the long-term. His decision may leave you reeling.
Finally, we're given a tidbit of information about a possible future storyline when Diane and Will ask Alicia to handle a case…for Kalinda. It turns out to be a tax related case. Unfortunately, not much information is given, but this could be something big.
As I mentioned previously, tonight's episode is terrific at moving major storylines forward and giving us an interesting case to focus on. The Good Wife once again proves that it's one of the better dramas on television these days.
Don't miss an all new episode of The Good Wife at 9:00 p.m EST on CBS. Watch a sneak peek for the episode below, which features the Kalinda case discussion.