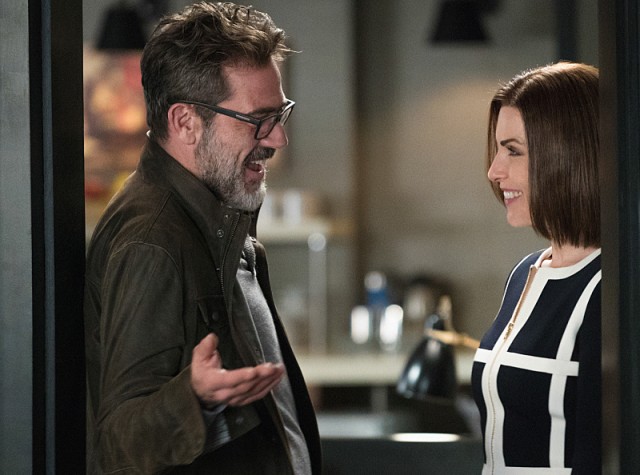 After the startling news The Good Wife fans heard last week, it was really hard to sit back and wait seven days before being able to watch a brand new episode of the awesome series. However, we finally made it. The episode entitled, "Monday," focused on Alicia returning to work at Lockart, Agos, & Lee. This was the very same firm that tried to give her a less than desirable severance package just one year ago when she won the State's Attorney race.This is also the same firm Alicia has been trying to steal unhappy clients from for her own personal gain. If this is how lawyer's really operate (jumping from firm to firm while also backstabbing one another), it is no wonder why people have a hard time trusting them!
The episode begins with Diane (Christine Baranski) giving an orientation to new associates to Lockhart, Agos, & Lee. One of the lawyers in orientation is Lucca Quinn (Cush Jumbo), who joined the firm along with our heroine Alicia (Julianna Margulies). Alicia then receives a warm welcome from Cary (Matt Czuchry). However, the warm welcomes quickly end as Alicia and Lucca get their first case: Howell, the firm's technology director. He found Chum Hum's latest piece of technology at a convention and he is seeking legal counsel.
There are some questions Alicia needs to figure out before taking on the case. She brings it to Diane and Cary for discussion. One of the points is to determine if the tablet Howell found at the convention is stolen property or not. Lucca, being the clever person she is, decides to call Chum Hum herself and let them know she is in possession of the unreleased tablet. She keep stating she has the new tablet and Chum Hum informs her she can keep whatever piece of technology is in her possession because they think it is an older version. That question is now resolved. The tablet is no longer stolen property. Wait to go, Lucca!
Marissa (Sarah Steele) is back! Aside from Elsbeth Tascioni (Carrie Preston, who returns next week), Marissa is my favorite recurring cast member. She is now working at a juice bar and is approached by a man named Scott, who is asking a lot of questions about her dad. Thinking this is odd, she begins to record the conversation and then immediately goes to tell Eli (Alan Cumming.) Any The Good Wife fan would know Scott is Roland (John Magaro), who appeared earlier this season and is an FBI agent.
Back at the firm, Alicia is greeted by Jason (Jeffrey Dean Morgan). In between all the flirting, Alicia brings up the kiss the two shared in the last episode. Aside from the cute glances, nothing is really determined about their relationship. I am sure things will continue to heat up between them in the next few episodes. After Jason exits, Alicia receives an email from Cary stating Howell's case will be dropped. Then in perfect timing, Howell is arrested and escorted out of the building. This was all before the first commercial break!
We return to police headquarters and Howell is being threatened with 3 years of jail time. Cary and Diane are now representing Howell to protect the firm. The group sees Neil Gross (John Benjamin Hickey), the head of Chum Hum. The charges will be dropped if the tablet is returned and the name of the person (Howell's girlfriend) who found the tablet is revealed.
Now that Eli knows who was talking to Marissa, he immediately heads over to Judge Schakowsky's (Christopher McDonald) chambers. He learns that Roland also paid him a visit. However, he was only asking questions about Alicia…
Now we are in the courtroom and this is where Alicia usually shines. Howell is a suspected hacker and Chum Hum believes this is why he stole their prototype. Alicia brings up that TAPS, the group that arrested Howell, reports to Chum Hum and it is a huge conflict of interest. But it is too early to bring this up since they are not currently at a trial. Most of the courtroom scenes are pretty dull and not really worth mentioning. This is probably because Alicia isn't winning… yet. However, I will share one bit of trivia. Two cast members of Devious Maids appear in these scenes: Gideon Glick and Judy Reyes.
It appears that Lucca is having just as rough a day as Alicia. She is used to always working with Alicia. Sadly, Cary and Diane do not want her to work with them on the case, even though she is more than capable as she has already shown. She is stuck working on a case with Monica (Nikki James), which I am sure is not as exciting as the Chum Hum one. Poor Lucca, she only has nine episodes left to show them that she means business. Good thing she has Alicia on her side as she is welcomed back on the Chum Hum case when Anthony Dudewitz (Joey Slotnick) returns to testify.
This episode is full of returning characters. Ruth (Margo Martindale) is back and visiting Eli. She thinks Eli is trying to dig up dirt on her as she sensed the FBI was watching her. This makes me think that this storyline won't be wrapped by the end of the episode. Eli wants to get this all figured out, so he has his daughter call Roland up for another date.
Back at the firm, TAPS has returned and they are looking for the prototype and have provided a search warrant. Lucca informs Cary that she has the tablet in her possession. Also, Alicia and Diane have a heated conversation about what cases Lucca should be working. I still sense a bit of tension between the two that will most likely come to head before these final nine episodes air.
Roland is at the mall waiting for Marissa to arrive. Instead, he is greeted by an angered Eli. This time, Eli is the one asking the questions. However, his questions are never really answered. Roland does inform Eli that they will get what they are looking for in the end. Eli thinks the FBI is after Peter. Either Alicia or Peter would make for a more exciting person of interest than Ruth, that is for sure!
To win the Chum Hum case, Lucca comes to the rescue. She pulls up Howell's Twitter account. Alicia uses this to prove that Howell is a journalist and does not have to reveal his girlfriend was the one who found the tablet. The case is over and Lucca is rewarded by being forced to work on the case with Monica.
The closing scene featured a warning to Alicia from Ruth. She pretty much told Alicia to get rid of Peter, something fans wanted from season one. However, we would not have been treated to seven great seasons of one of the best shows currently on television.
What scene from The Good Wife was your favorite? Let us know in the comments section below.
Photo by: CBS