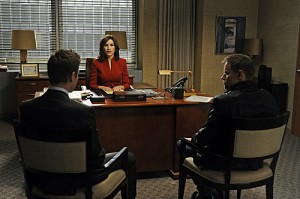 Last year The Good Wife marketing department told us "Don't let the name fool you" and this time the campaign is leading with "Stronger, Sexier." We are also treated to all new footage that introduces some of the new players to The Good Wife's political and personal scene and it definitely teases enough information to make this one the most anticipated returning shows.
Once again the issue of commitment is discussed; commitment that we saw in the pilot episode as Alicia (Julianna Margulies) stood by (or rather behind) her man at the press conference that revealed Peter (Chris Noth) had been unfaithful. This time it is reporter Peggy Byrne (guest star Kristin Chenoweth) who is asking the questions and from the nature it would seem that either Alicia and Peter have reconciled, or the news of their separation has yet to leak to the press. Even from this brief promo this scene crackles with tension. The costume department have done a terrific job with both characters putting them in such bold jackets and these choices are never just because the color suits the actor. Red and black are the colors that Alicia probably wears most frequently and putting her in teal suggests a confident Alicia. As you can see from the promo photo above, red is also still very much a part of Alicia's wardrobe.
Chenoweth who was slated to appear in several episodes sadly announced that due to a head injury that she received on set, this number would be reduced to just the season 4 premiere. However Kristin Chenoweth's tweeted on Friday "I was able to go back a shoot a short scene with Alan Cumming on The Good Wife.#blessing!" This is also the episode that Josh Charles is directing.
This promo also reveals that Will's (Josh Charles) suspension ends "tonight" and so we shall be seeing him back in the courtroom soon as more than just a spectator. There is no mention in the promo of the financial strife that Lockhart Gardner is facing, but I guess money troubles don't cry 'sexy' or 'strong.'
Kalinda (Archie Panjabi) provides us with the most explosive moments and we also get a first look at Kalida's ex-husband Nick (Marc Warren) in two very different scenarios. Both are physical scenes; one sees Kalinda in bed with Nick and the other features the pair fully clothed and fighting each other. We also get a glimpse of Kalinda in another violent altercation and it looks like her trusty baseball bat might come into play.
We briefly see Cary (Matt Czuchry) in court with Alicia and I'm very much looking forward to seeing these two working together this season. What do you think of the new season 4 promo?
The Good Wife will return on Sunday, September 30 at 9:00 p.m. ET/PT on CBS and for more season 4 news, browse and bookmark our Good Wife page.