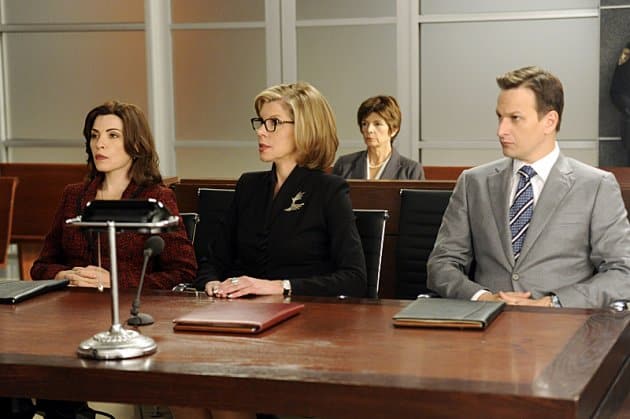 Lockhart Gardner is short of funds at the moment on The Good Wife, but one thing they are never lacking in is passion. This has been a criticism levelled at them by their court appointed trustee Clarke Hayden (Nathan Lane) and he is becoming increasingly frustrated with their business conduct, so it might not go down well when Will (Josh Charles) suggests that a judge is biased against their client. Over at the campaign things are getting dirty as family values becomes a key platform and the Florrick children are targeted.
There have been previous incidents on The Good Wife when a judge has been asked to recuse themselves from a trial and it is usually met with a hostile reaction from the judge. Tonight Will is risking the judge's wrath as Will believes that a judge has already made a decision on the case before it has been argued before him. The judge in question is a new one to the world of The Good Wife and sees Judd Hirsch joining the already impressive rotation of Cook County judges. Hirsch plays Judge Creary and he doesn't take too kindly to Will's accusations. Will has a gambling streak and this is the kind of move that will either be a triumphant success or a huge disaster and with Alicia (Julianna Margulies) as his second chair he is likely to go all in. This is also the first time that we will see Alicia going up against her new friend Laura Hellinger (Amanda Peet) as she got Cary's (Matt Czuchry) old job at the State Department last week.
Over at the campaign it looks like the news cycle is turning its attention away (at the moment) from Peter's alleged affair and looking into another area of Peter's personal life. This is thanks to the Mike Kresteva (Matthew Perry) focusing on family values and particularly Peter's children. Eli (Alan Cumming) notes that Kresteva has a kid with leukemia and the Florrick children could be targeted in a negative manner. During the previous campaign there was a gentleman's agreement of sorts where the kids were (mostly) off limits but this isn't the case this time. Alicia is fine with rolling with the punches when it comes to her marriage with Peter, but when it comes to her kids Alicia is likely to be less than civil.
We know that Zach (Graham Phillips) is rather astute when it comes to the campaign, but Grace is another story and it looks like she's getting involved with a 'bad boy' at school. Maybe Internet Jesus or the street dance tutor was a better outlet for the youngest Florrick.
As you can see from the promo photos there will be more Nick (Marc Warren) shenanigans tonight and in unsurprising news it looks like he is up to no good. Executive producers Michelle and Robert King spoke to TV Guide about Cary and Alicia becoming more involved with this story and I wonder if this will occur tonight. A highlight of last week's episode was the much needed/welcome extended screen time with Cary and hopefully this means that there is more to come from him tonight. As you can see from the promo Cary might be in some danger; is this because of Nick?
Watch a preview of "Here Comes the Judge" below.
http://youtu.be/FPmk6tiS6fU