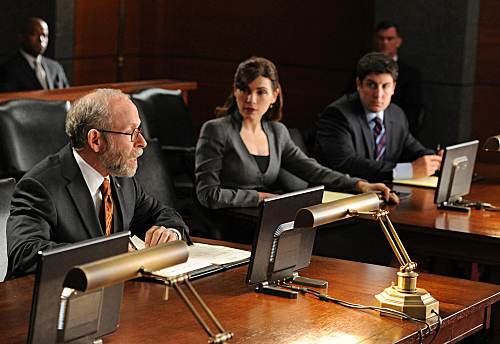 The Good Wife returned from its midseason hiatus this weekend with a rather interesting case of the week. A husband decided to sue Lockhart/Gardner for alienation of affection. He insisted that David Lee drove him and his wife to a divorce so that the firm could profit from the sale of assets.
The firm's equity partners (including Eli) didn't want to pay for David's mistakes in the event that they lost the lawsuit. Later, Kalinda realized that a simple mistake by Alicia could have severely damaged their case. With the missing document later found, Alicia couldn't be certain that David didn't fabricate the document so they could get the case dismissed.
Meanwhile, Will continued to shop around for a lawyer to defend him in the upcoming State's Attorney's Office investigation. After going through a few duds, he hired Elsbeth Tascioni. He found her to be odd, but it's clear she's the best person for the job.
In the January 15 episode of The Good Wife, Alicia and the firm are hired by a lawyer who is arrested by the government for not revealing the name of an anonymous client. This client is a computer programmer who has apparently invested a new online currency. Jason Biggs guest stars as Alicia's client, Carrie Preston appears as Elsbeth Tascioni and Bob Balaban as Treasury Department representative Gordon Higgs.
Watch a trailer for the January 15 episode of The Good Wife, airing at 9:00 p.m. ET on CBS.
For more about The Good Wife and its recent Times Talk panel, click here.