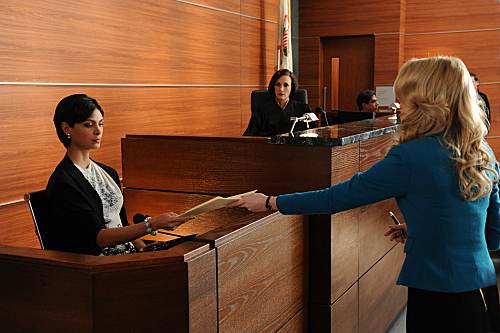 Nancy Crozier returned in this week's new episode of The Good Wife. She was defending a couple who were suing a filmmaker in a wrongful death lawsuit after their daughter committed suicide and the director made a film they thought romanticized suicide. When Alicia realizes that she doesn't have the attention of the judge, she brings in Caitlin to help her defend the filmmaker. After seeing Caitlin in the courtroom, Diane tells Alicia that she'll be promoting Caitlin to a full litigator.
Will seemed to be enjoying his enforced vacation from the law, despite the fact that Diane and the others were busy picking up the slack back at the office. His sisters dropped by for a visit to cheer him up and try to help him with his love life. Back at Lockhart & Associates, there was a big power play for Will's former office and position. In the end, he decided to return to the office a bit to protect his business interests and advise on his former cases.
Eli was also trying to revive Peter's political career, but he ran into a roadblock when Peter's former friends were upset that Peter was no longer handing out favors. To that effect, Peter hired on a new ASA as a favor.
Colin Sweeney returns in the March 11 episode of The Good Wife. Alicia defends Colin when Isobel Swift (guest star Morena Baccarin), a former employee, claims that he fathered her son. This sexual misconduct case could throw off his plans to reclaim his company. Bebe Neuwirth will guest star as the judge in the case. Also, Cary has a moral dilemma when Peter tasks him with enforcing office policies.
Watch a preview below for the March 11 episode of The Good Wife.