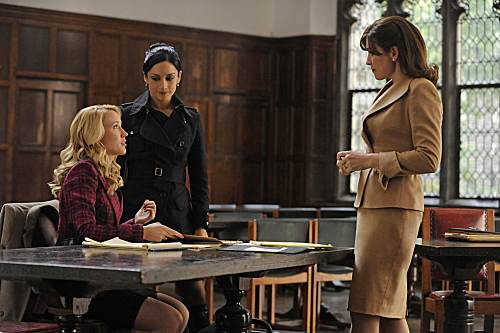 In this week's episode of The Good Wife, Alicia and Will returned to military court to defend a solider responsible for manning drones. They came up against the same hard-nosed military judge (Leora Kuhn) they had faced in a previous episode.
Meanwhile, Eli and Diane testified in front of a government tribunal about the USDA food pyramid. Eli continued to represent the interest of their client, the cheese lobby, but had to face Stacie Hall, his new lobbyist rival.
Dana Lodge continued to grow closer to Kalinda, while secretly sleeping with Carey. Alicia also discovered that Jackie was snooping around her apartment and laptop and warned her children that she wanted to create more boundaries for Jackie.
Peter hired Wendy Scott-Carr to aid in the investigation of Will Gardner. Wendy isn't that anxious to go after Will just to get his drug-dealing client. She actually wants to take Will himself down. She met with Diane and told her that the State's Attorney was investigating Will for a gambling and bribery ring. Diane confronted Will about the investigation and said that it was ramping up, not winding down. She told him to stop sleeping with Alicia and warned him that Peter is clearly targeting him because of the affair. And even if he wasn't, Will is Alicia's boss and the whole situation is wrong.
The Good Wife is on hiatus next week, but a new episode will air on December 4. The tense situation of the episode centers around Alicia and Peter's daughter, Grace, going missing. Dexter's Jennifer Carpenter makes a guest appearance as Alicia's newest client. Michael J. Fox returns as Louis Canning, who comes up against Alicia in a routine arbitration that turns into a battle of wills. But when a personal crisis interrupts the arbitration, will Louis and Alicia find they have more in common than they thought?
Watch a promo for the December 4 episode of The Good Wife below.