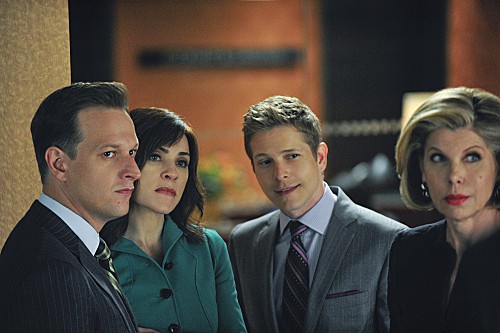 With just over a month before The Good Wife returns for season 4, CBS has released promo photos for the season premiere "I Fought the Law." The new season will present challenges both old and new for all at Lockhart Gardner and expect Peter's (Chris Noth) campaign to be a central story this year.
The season finale saw Lockhart Gardner take a massive financial hit as their biggest client Patrick Edelstein (Jack Carpenter) decided to take his business elsewhere. This is a huge blow and will leave Will (Josh Charles) and Diane (Christine Baranski) scrambling to get their finances in order. Nathan Lane will make his first appearance in the season opener as Clarke Hayden; the firm's appointed trustee whose primary role is to reduce Lockhart Gardner's outgoings. This will cause conflict with not only Will and Diane, but other lawyers such as David Lee (Zach Grenier) at the firm.
One person who is concerned is Cary (Matt Czuchry) who has some very bad timing when it comes to working at Lockhart Gardner, will he manage to keep his new job? It will be disappointing if Cary does lose his job again as I was looking forward to seeing Cary working with Alicia (Julianna Margulies) again, rather than against her. One season 4 Cary storyline that has been revealed is that we will finally get to meet some of Cary's family and these family members will bring complications for Cary.
Alicia will face some family strife in the premiere and as you can see from the promo photos it is Zach (Graham Phillips) who will need Alicia in not just her parental capacity, but also in her professional one. Zach is targeted by an overzealous state trooper and Alicia has a look of both concern and annoyance. Last season ended on an ambiguous note for Alicia as she stood outside her old family home watching a happy scene and we don't know if Alicia left or went back in the house. The finale also had Peter admitting on record that he and Alicia are separated, so expect this piece of information to be public knowledge when we return. How will this affect Peter's campaign if he doesn't have Alicia by his side? Or can we expect a reconciliation at some point this year?
Another guest star who will feature in "I Fought the Law" is Kristin Chenoweth, as political reporter Peggy Byrne. Chenoweth was originally slated to appear in multiple episodes but after receiving an on set injury she sadly will not return to The Good Wife at this time. Miriam Shor (GCB, Damages) has been cast as another reporter and is not playing the same character as Chenoweth, but it is clear that one part of Peter's campaign will include the 24-hour news cycle. This is one aspect of politics and the scrutiny of candidates that executive producers Robert and Michelle King have previously focused on in a broad sense and this feels like they will be making it a more specific plot point this year.
The end of last season saw Kalinda (Archie Panjabi) waiting in the dark, gun in hand followed by a knock on her door. Kalinda had made the decision to stay and not run from her ex-husband who she fears enough to change her name. We will finally get to meet him when we return and Marc Warren is playing Nick and it might surprise viewers to see him sitting so casually in Alicia's office. Nick would like to use Lockhart Gardner's legal service, for what reason is unclear but it will not be surprising if Kalinda keeps her trusty baseball bat to hand. This will also impact the reconciliation that occurred between Alicia and Kalinda at the end of last season as Alicia said she could only be friends again if there were no more secrets and lies. Can Kalinda keep to this agreement when it comes to revealing why Nick scares her so much?
The Good Wife will return on Sunday, September 30 at 9:00 p.m. ET/PT on CBS.