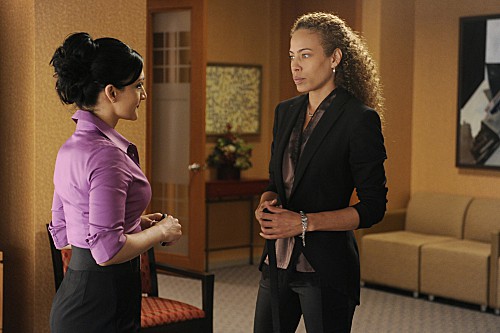 The Good Wife returns tonight for season 4 on CBS and we will be kicking off where we left the show at the end of last year; with Kalinda (Archie Panjabi) ready to face whoever is knocking on her door, gun in hand. We have a sneak peek to show who it is and once again we will see why Kalinda is not a character to be messed with. Spoilers ahead.
Up until now Kalinda has remained a most mysterious character, Blake (Scott Porter) was the nearest to discovering the truth and he ended up with a baseball bat to the gut and a drug dealer thinking he slept with his wife. This year we will find out more with the introduction of Kalinda's ex-husband Nick (Marc Warren) and see how he both attracts and repels Kalinda. This relationship will also have The Good Wife pushing the boundaries of what network TV can show.
Even though Kalinda and Alicia (Julianna Margulies) are back to being drinking buddies, it's going to take some time before they resume the closeness they had before the big Peter (Chris Noth) bombshell. Alicia told Kalinda last year that they could only be friends if Kalinda is honest with her and with the arrival of Nick, Kalinda might not want to reveal too much about their relationship and this could impact our tequila drinking friends.
Alicia will have her own concerns in the season premiere as she has to deal with an overzealous state trooper who stops Zach (Graham Phillips) and Grace (Mackenzie Vega). There is also Peter's gubernatorial campaign which will impact the Florrick family, though it is unclear if this means a Peter/Alicia reunion. Julianna Margulies mentioned in this behind the scenes video that Alicia wants Peter to win, but what will she do to make sure that happens?
Executive producer Robert King spoke to Entertainment Weekly about Peter's campaign and said that one of last season's missteps revolved around Eli (Alan Cumming) and the different projects he worked on as "Eli seems to have more fun when he has one overwhelming goal for the year, as opposed to little goals. And the goal for the year is to get Peter elected governor."
This isn't the only area that King admits they fell short on as Cary (Matt Czuchry) is another character that faced limitations last season; thanks to his somewhat isolated position in the State's Attorney's office. With Cary's return to Lockhart Gardner, King says "we feel so much better having him again in-house. You just want to see more of him. You want to see more contact with Alicia, with Kalinda. So we feel we have a mature Cary coming back to the Lockhart Gardner fold." These remarks also suggest that even with the financial problems at Lockhart Gardner, Cary will get to keep his new job at his old firm.
Lockhart Gardner's financial troubles will be front and center at the start of this season and Nathan Lane's court appointed trustee Clarke Hayden is going to ruffle feathers. Hayden has the power to veto both Diane (Christine Baranski) and Will (Josh Charles) and will be coming up against equity partners such as David Lee (Zach Grenier). Will's suspension is coming to an end and so he can practise law again, but will he be rusty in the courtroom?
There are a lot of good shows returning tonight, but it is The Good Wife that I have been anticipating the most and this season 4 premiere sounds action packed. What are you hoping to see this season?
Watch the sneak peek for "I Fought the Law" below and for more season 4 news, photos and videos browse and bookmark our Good Wife page.