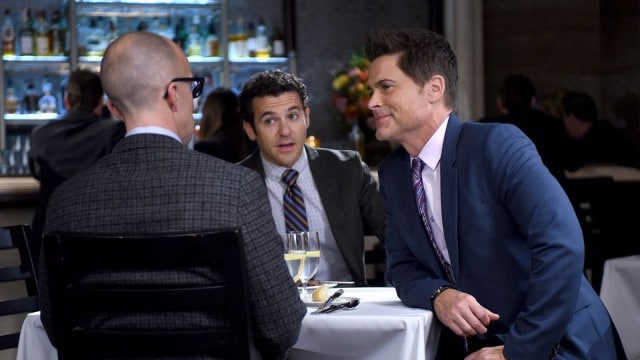 "The Retooling of Dean Sanderson" is a pretty obvious title; however, as The Grinder's mix of meta satire, family comedy, and lighthearted legal procedural awkwardly fumble through the midpoint of its first season, it's a more necessary title than one might expect. And yet, it never really feels like The Grinder is trying to build momentum in any new directions, cycling through old habits as it works towards a third-act twist that exists because… well, why not make this a two-parter, like any good guest-star filled affair?
There are certainly elements of "The Retooling of Dean Sanderson" that ground the series in interesting ways; and not just Dean going to therapy with Maya Rudolph, as wonderful as those scenes are (her scenes with Fred Savage are particularly stellar; subdued Maya is extremely underrated). The central conceit of "The Retooling" is essentially all three Sanderson men – and the Sanderson woman – feel like they're losing control of their lives, stuck in the rut of who they are as they try to grasp the reins. Just that idea alone applied to Dean, whose grasp of reality is tenuous as best, gives The Grinder a backbone its never quite had before – and when it applies to Stewart, offers some genuinely compelling television about a man frustrated by everyone else in the world forcing his hand, feeling like he's got no say in anything that he does or happens to him.
Smartly, The Grinder remembers to apply this to Debbie as well; for once, her journey is unified with the other main characters, except that instead of supporting the life of the men in her family, she's got her own set of problems to work out, with two bosses who are abusing her role as intermediary between them. Sure, when it comes to the overall arc of the episode, her plot is mostly referenced in jokes (Dean calls it boring, other people openly forget to listen to her) to sell her influence on the story short, but quitting her job is an opportunity for the show to build her out as her own character, with her own set of priorities. Then again, she could just get left at the house to tend to the stories of the Dean and two Stewarts in the family – but hopefully this allows The Grinder to bring more of Debbie's personality to the table, as she tries to find a new direction in life (just please don't let her start working at the firm).
What's oddest about "The Retooling" (besides how subdued and underutilized Oscar winner Jim Rash is in his guest role) is how it ultimately re-purposes its story about Dean into something else; it's almost as if The Grinder remembered its main character was Stewart two-thirds of the way through, and shifts the pendulum back to his increasing frustration. But then it twists again, ending with Dean Sr. running in and announcing he's about to lose the firm because he's getting sued! Where one might think this would be season finale material, The Grinder is clearly amping up a lot earlier than expected, possibly as a way to kick start its creative engine, or possibly to drum up some hype to help its faltering, less-than-promising ratings; in some aspects, I suppose this episode works in that fashion, but it all still feels a little too haphazard and superficial to bring lasting, necessary change to The Grinder's weekly formula. We can only hope Part II delivers the goods.
The Grinder
Summary
A mix of promising and frustrating marks the first half of The Grinder's guest heavy two-parter.