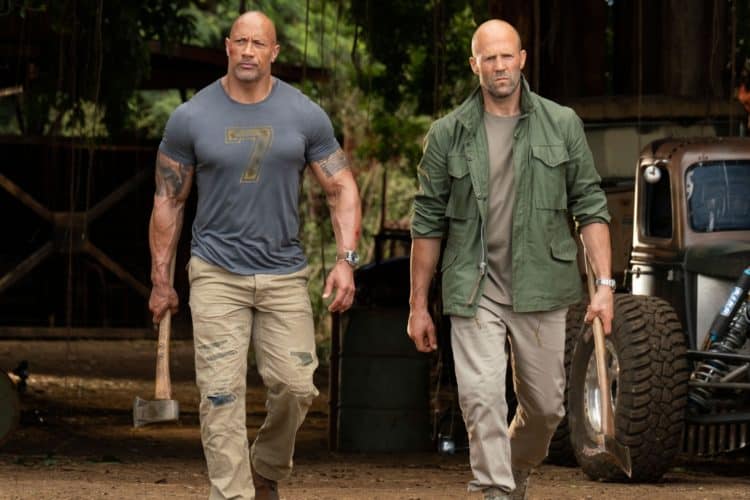 With all the talk about toxic males and the danger of alpha male behavior, it's kind of amusing that we still enjoy the kind of movies in which alpha male behavior at its finest is on full display, such as in Hobbes & Shaw. Don't get me wrong here, I enjoyed the action scenes and the idea of going 'old school' with a good war chant before laying the smackdown on a technologically-superior force, but the believable nature of this movie kind of flew out the window the moment that both Hobbs and Shaw went searching for information on the dark web about a killer virus without any backup and without any apparent need to follow any set plan that might have been put in place. The 'lone wolf' manner that both agents use in their methods is all great and wonderful since it gives the effect of making them look like serious badasses, but as it's been covered by many people over the course of the last several years, it's not realistic in the least bit. But that's kind of the point of Fast and Furious movies, everything is ramped up to 12, meaning the dial has been pushed past the limit and might be about ready to vibrate off the console from the stress that's been placed on it.
The clip does point out another big flaw in this since in the last movie where these two were forced to cooperate they actually came to an understanding and were on good terms by the time the movie ended, which makes it confusing as hell to think that they would be at each other's throats in this one. Maybe something happened between them that soured the relationship, but it would certainly be nice to know what. From the moment that they're brought together, there's little more than animosity throughout the movie, and that's only one thing that's hard to believe since let's face it, Vanessa Kirby is obviously a lot younger than Jason Statham, which means that there's no way to really believe that Hattie and Deckard would have been able to grow up together. More and more the Fast and Furious franchise is showing that it's ready to lean hard into the soap opera genre since it brings this person in, then that person, then this person is supposed to be dead, but they weren't really dead because of…reasons. Is anyone else getting this? An even better question is why no one is caring since it's a quality that speaks of lazy writing, no matter how much money the movies have been making. It's easy to get cash from those that are looking to watch certain actors do impressive things that should by all means tear their bodies apart or leave them in traction for a long time to come.
Seriously, anyone thinking that Hobbs, no matter how strong he is, could keep an attack helicopter from ripping his arm off at the socket while holding onto a speeding hot rod at the same time, must have watched Captain America: Civil War and thought that this was a great idea. Like it or not, the human body has a great number of limits that it can't exceed, and keeping an attack helicopter that can yank several linked cars around a cliff is just one limit that Hobbs defied in this movie. Plus, the one-punch knockout to a guy that stands at least a foot or more taller than him and looks like he could chew nails and spit tacks is hard to buy, no matter that a one-punch knockout is a possibility in real life. Then there's the idea of why Brixton doesn't just kill them when he has both men chained up and easy to pick off. This is a big reason why these movies play out like this so often, the bad guy is supposedly intelligent, stronger than the protagonist, and confident in their abilities, but they're also arrogant, ignorant, and appear to want to be stopped since it makes no sense otherwise to keep the heroes alive.
And while I do appreciate the war chant, as I said, the fact is that old school Samoan weapons are usually better for show than anything else when it comes to pitting them against conventional weapons. Now, having weapons that can be hacked from a computer is about as dumb as it can get since it stands to reason that the writers that put this in might have been thinking that it was impressive and hi-tech, but it became a huge convenience so that the heroes didn't have to face insurmountable odds and could wage a fair fight. Also, the fact that Hobbs' skin is tough enough to endure a bottle being broken over his face and having a motorcycle helmet slammed into him is a stretch, and people appear to forget that a gun doesn't need to be fired from as close as possible to be effective, but can be used from a range. Does anyone else happen to notice how people with guns tend to run up on their targets in the movies to give the other person a greater chance of disarming them? All in all, people liked the movie, but from a writing standpoint, it was hard not to cringe.