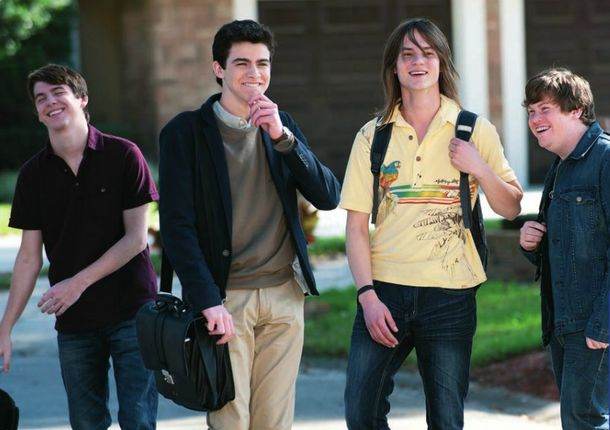 Can the nobodies finally become somebodies?
That's the question that The Inbetweeners, MTV's remake of the acclaimed British comedy of the same name, will be trying to answer when it debuts later this month. The show will be following four high school boys trapped in popularity purgatory; they're too cool to be losers and too loser-y to be cool, the kids that float through high school without leaving much of an impression. In the sneak peek for the series premiere, though, they're looking to change that once and for all.
In the preview, Simon (Bubba Lewis) makes a grand romantic gesture to his crush in an attempt to get her to notice him for the first time. Granted, it's not exactly "hold up your boombox while a Peter Gabriel song plays" romantic; the young man paints a giant heart on popular girl Carly's driveway, which initially puts her off (to the delight of his friends). But ironically, it's that show of cruelty that gets her to change her mind and invite him over to her house later to talk about what he did. Simon finally got the attention that he had been craving for years, but could Carly be genuinely interested in him? Or is this a move of mere compassion that will leave him hurt down the line?
In addition to Lewis, the cast of The Inbetweeners includes Joey Pollari, Zack Pearlman, Mark L. Young, and Alex Frnka.
The series premiere of The Inbetweeners airs Monday, August 20th at 10:30 on MTV following the season premiere of Ridiculousness. If you've yet to see the full series trailer, you can check it out here.
Will you be watching MTV's remake of The Inbetweeners? Do you think it'll be able to differentiate itself from the original? Does the sneak peek help alleviate any fears about the American version?