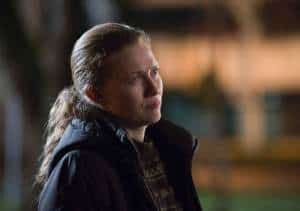 The Richmond campaign has spent most of The Killing's second season scrambling to make up ground lost thanks to Darren's arrest at the end of season one. With the viral video of the candidate playing basketball and the speech about his suicide attempt, they made great strides in their quest to defeat Mayor Adams, but has there been enough of a rebound to make it a close contest? Can Darren Richmond pull the ultimate come from behind story to bask in the glow of political victory?
Had the key card not worked at Richmond's office, I would say yes, but now, I'm thinking the campaign might be doomed to fail. Richmond might be feeling the same way; he doesn't know about the pivotal piece of evidence recovered by Linden, but he's rather insecure about his place in the race in the sneak peek below. That could be a result of letting such a dark piece of information as his suicide attempt into the public sphere. It depends on how the public decides to take this knowledge and how the media chooses to cover it, as it could be played as a moment of true unfiltered humanity from a man that has been falsely accused or as a moment of desperation from a candidate trying to appeal to the sympathies of the public.
AMC has released a catch-up guide to the search for Rosie's killer(s) for those that need a little reminding about where the investigation stands at this point. The missing link seems to be the owner of the key card, which is someone that's connected to the Richmond campaign. But who had that kind of access and enough motive to kill Rosie Larsen? Can the Richmond camp make it through election day unscathed?
The Killing airs Sundays at 9:00 on AMC.