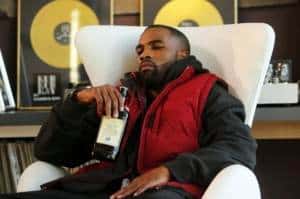 The second season of The L.A. Complex continues to thrive in tonight's all new episode that features the rocky roads of not one, but two, relationships, and quite a bit of soul searching.
Raquel and Connor: In the previous episode Raquel gave her blessing for Connor to act as Jen's fake boyfriend, but it quickly becomes clear that she either didn't anticipate her burgeoning jealously or she didn't realize how deeply she felt for Connor. In tonight's episode, Raquel finally scores a guest appearance on Connor's new show, but her happiness at returning to work is short-lived when Jen shows up on set and immediately launches into "girlfriend" mode. Forced to pretend she barely knows Connor, Raquel's annoyance at the situation quickly turns to jealously and sadness when she realizes that she's guilty of the same sin she once accused Connor of committing. With no end in sight for this fake relationship, we have to wonder how long Raquel can pretend not to be involved with the father of her child.
Kaldrick: I really wanted to hate Kal after his beating of Tariq in the season 1 finale (and I did) but his story has become one of the most fascinating arcs on the show. He may have been sprung from the psych ward, but his demons still haunt him. His handlers are hovering, worried he might try committing suicide again, and his producer isn't so quick to forget what he did to Tariq. Further complications arise when another rapper starts to declare himself "The King's" successor, which leads to a rap-off (no, seriously!). But through it all, Kal is considering his own path to redemption, which just so happens to lead to another bombshell at the end of the episode that could lead to a wealth of possibilities for this character.
Nick and Abby: Haunted by strange dreams, Nick reaches out to his girlfriend, only to find her too involved in her new show and co-stars to pay attention to his workplace drama. And drama it is, as Sabrina is still determined to prevent Nick from scoring the staff writer position on the show. With so many secrets and resentment piling up between Nick and Abby, we have to wonder whether these two crazy kids can last.
Beth and Simon: Despite securing an agent at the end of last week's episode, Beth soon learns that she doesn't have the cash necessary to jump-start Simon's career. But she's a clever one, that Beth, and she soon resorts to some good old-fashioned trickery and deception to score Simon an audition, along with some help from her friends at The Lux.
Watch a preview below for tonight's all new episode of The L.A. Complex, airing at 9:00 p.m. ET/PT in The CW in the U.S. and MuchMusic in Canada.