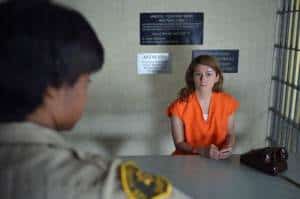 Lessons to be taken from tonight's all new episode of The L.A. Complex are: (1) getting arrested, fingerprinted and searched in jail is humiliating, and (2) threesomes can get very complicated.  Here is what's in store for tonight's episode:
Raquel's Rock Bottom. The good news is that Raquel survived last week's cliffhanger car crash with just a bump on the head.  The bad news is that she's being charged with DUI and has to endure a humiliating stint in prison, however short it may be.  Of course, the problems don't stop there, because Raquel is not only facing a criminal charge, but she is definitely facing a future without Connor.  Over at Jennifer's house, he and his "fake" girlfriend have taken their relationship to a physical level, culminating in both of them showing up to bail Raquel out of prison when she calls Connor for help.  Things continue to spiral downward when Raquel's absence from work results in her termination.  And just when you think it couldn't get any worse, she gets slapped with a potential lawsuit and a humiliating career offer. 
Abby's Threesome Conundrum. Abby may have decided to get down and dirty with her male and female co-stars last week, but she's got her eye firmly on one of them: Brandon.  When she tries to admit her feelings to Brandon, the pair get interrupted by Laura, who has a shocking announcement to make: she believes there's something more between her and Abby.  How, exactly, do you come between your male and female co-stars when you and your male co-star mutually like one another but the female co-star (who is sort of dating the male co-star) also likes you?  However this situation is resolved, let's all just achknowledge that Abby is in a very tricky stuation.
Kaldrick's Family Issues. It seems that Kal was serious about bringing his father home with him, because he heads back to his humble abode and tells his dad to pick out a room.  Kal's friend Reggie is immediately defensive about the situation because he's fully aware of how abusive Kal's father used to be.  With his dad quietly disapproving of his lifestyle, his friends wary about his dad's presence in his life and his producer demanding he return to the studio to finish his latest album, Kal might be in for another breakdown.  Or maybe even a breakthrough….
Nick's Forgiveness. Apparently nothing bonds two men like a trip to a brothel, because when Nick turns up at work the morning after he and his boss visited that whorehouse, Nick is suddenly pulling ahead of Sabrina in the race for the job.  Of course, this causes her to be mean-spirited, but when it becomes clear that she's losing ground she just turns sullen.  Nick, of course, feels sorry for her, because he's far, far too nice for his own good.  Is there a truce coming for these two or will Sabrina continue to manipulate the stiaution for her own gain?
Watch a preview below and don't miss an all new episode of The L.A. Complex tonight at 9:00 p.m. ET/PT on The CW in the U.S. and MuchMusic in Canada.