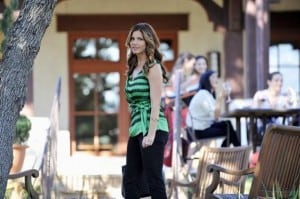 For a while, it seemed like Ted and Kristin would find their way back to one another. Although things definitely weren't all better, not with Ted lying in therapy and Kristin buckling under pressure from the kids, they had gotten back to a place of civility that could eventually lead to a future reconciliation. However, in the world of The Lying Game, no relationship can ever be protected long enough to grow into something; an environment built on backbiting, blackmailing, and secret keeping cannot foster a healthy relationship. Coming up on The Lying Game, it looks like even Ted and Kristin, once the model of stability in their community, will fall prey to the lies in which they (and others) told.
On the February 19th episode of The Lying Game, Ted and Kristin are continuing to unravel, thanks to the interference of Rebecca and Alec. Rebecca may be elated to have her dreams of forming the perfect family with Ted and the girls inching closer to reality, but she might have a problem on her hands with Sutton, whose faith in her birth mother has been wavering recently. As a result, she's decided to take matters into her own hands and go rogue, but now's not the time to get careless and sloppy, not when the thing she's been working toward with Rebecca is now close to happening. If Rebecca wants to finish the job of completely severing the Mercer's marriage, she's going to have to reel her daughter in and play things a bit closer to the vest, no matter how anxious she might be for things to be officially over.
Elsewhere on The Lying Game, Emma tries to deal with increasingly complicated relationships with Ethan and Thayer, while Alec might have found an ally that could help him bring down his wife once and for all. Which Scottsdale resident will contemplate teaming up with an accused murderer, all in the name of pulling one over on Rebecca?
The Lying Game airs Tuesdays at 9:00 on ABC Family. Be sure to click on the arrows above to get a first look at photos from the upcoming episode.
Will Jordan align himself with Alec and attempt to take out Rebecca? Who is Emma able to trust more: Ethan or Thayer? If Sutton decides to go rogue, is Rebecca's plan in jeopardy of failing?