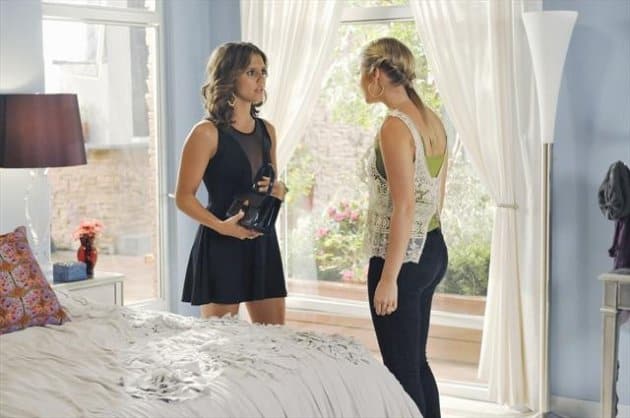 One thing you had to wonder about The Lying Game is why the Mercer family seemed willing to accept the sudden personality changes Sutton exhibited at face value. Of course, Sutton had always been quite temperamental and likely had moments of not being terrible, but the extremes in her personality and Emma's personality are so pronounced that it would be hard not to suspect something, especially considering the frequency in which the twins switched places. But is one member of the Mercer family finally putting the pieces together?
On the February 5th episode of The Lying Game, Laurel has started to ask questions about the drastic changes in personality that her sister has exhibited. As expected, having someone digging around the twins makes everyone involved quite nervous, but they had to expect that the operation they had been running would eventually be found out by somebody. Of all the people who could find out about the twins, Laurel is a pretty ideal choice; she won't blow up what's going on out of love for Emma-Sutton and having another ally in the Mercer household could help with getting information and the switches.
You do have to wonder about how she'll react to finding out that her sister has a twin and that they've been changing places under her nose. Will that make her less trusting or will she be able to look past it to help the twins keep their charade going?
Elsewhere on The Lying Game, Emma and Thayer continue looking into the identity of the twins' birth mother and what Sutton knows about her, while Rebecca gives Sutton the information needed to lash out at Kristin over dinner.
The Lying Game airs Tuesdays at 9:00 on ABC Family.
Will Laurel eventually figure out that there are two Suttons? What will Emma and Thayer's investigating turn up? How will Kristin react to Sutton lashing out?