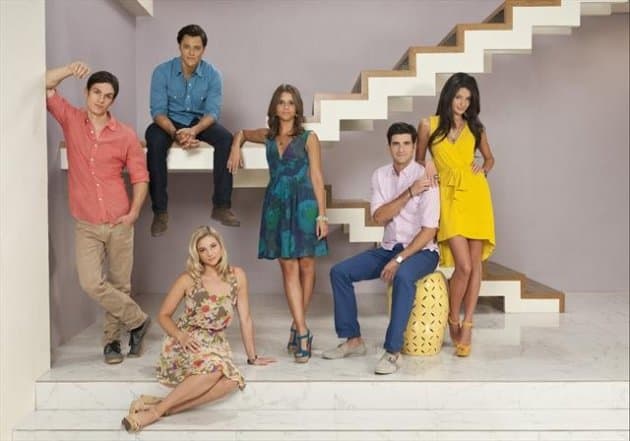 Last season on The Lying Game, it was revealed that the girls had already found their birth mother and only one of them knew it. Emma may still be flailing around in the dark looking for anything resembling a concrete answer, but Sutton has connected with Rebecca, Char's mysterious aunt, the woman who Ted had an affair with many years ago, and her birth mother. We don't know yet why Emma has been left in the dark for so long, nor do we know if Rebecca is planning any type of revenge against Ted and Alec for running her out-of-town or if there are other targets in Phoenix aside from Mr. Rybak and Mr. Mercer.
What we do know is that coming up on the second season of The Lying Game, there are even more skeletons ready to come dancing out of the closets of the Phoenix elite. Ted may have come clean to Kristin about the affair with Rebecca, but we know from the first season that he's pretty tight-lipped when he wants to be and he deliberately left out any information about what resulted from that affair. Aside from the paternity of the twins, does Ted have anything else that could come out and potentially ruin the happy life that he built for himself over the past 16 years?
Elsewhere on The Lying Game, Emma continues growing closer to Thayer, while Ethan and Sutton are dancing around the idea of reconnecting and Mads has a new mystery man who is hiding something from the brunette beauty. On The Lying Game, though, that which is built on lies must eventually come tumbling down, so the Sutton-infused wedge that drove Emma and Ethan apart will soon be taken out of the mix, making the bond between the two outcasts that much tighter.
The second season of The Lying Game premieres Tuesday, January 8th at 9:00 on ABC following the mid-season premiere of Pretty Little Liars.
Are you ready for another season of The Lying Game? How long will it take Emma to figure out that Sutton and Rebecca know more than they let on? Will Alec be able to talk and/or buy his way out of jail this time?
http://www.youtube.com/watch?v=ux4g1_VafGY