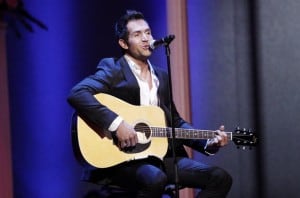 This week's episode of the The Bachelorette was potentially the most uncomfortable, awkward experience of the entire season.
In fact, I wouldn't be surprised if it was the most awkward experience of my entire week.
Because of the Earth-shattering event that producers have led viewers to believe is coming, this week was the men's tell-all episode. Many are even wondering if the fairy-tale ending expected on these shows will fail to arrive at the season's close.
Party Crashing Fails to Deliver
After Sean was forced to strip by sorority girls when he crashed their viewing party last season, I had high expectations for segment and, for the most part, I was sorely disappointed. However, I'm not entirely sure why I thought Des, this season's Bachelorette, would have run screaming into anything, much less a room full of strangers.
However, once it was over, it was time to let a group of men discuss the bout they participated in to win a woman's heart. And it was as bad as you think that would be.
It wasn't long before Brian was called a "deceitful pig" who was also a liar.
One Long Hot Seat Cringe
What's the best way to end an argument? The Hot Seat, of course.
Brian was first up. As his highlight reel played (okay, it was more of a lowlight reel) – including the limo meltdown – I can only imagine it was hard to bear a big grin afterward. But when someone declared Ben was not the guy he said he was, insisting that he was a serial cheater instead, things veered into lawsuit territory.
After Zak gave props to Juan Pablo for being a decent dad, James implied he would be the next Bachelor – something the crowd disapproved of.
And at this point, things really devolved into demands for an apology, Juan Pablo's constant talking, and Kasey almost inciting a fight. But when Mr Congeniality Juan Pablo took the hot seat, everyone was able to relax and fall back in love with him.
"In the history of this show, no guy has made a greater impact with less screen time than our soccer playing single dad," says Harrison by way of introduction. "He's the fan favorite we barely got to know, so let's get to know him now!"
He literally made women in the crowd cry.
America, I think we have found our next Bachelor.
After that, Zak took the stage and brought everyone back down to Earth under the crushing weight of his depression and when they remember he threw his grandmother's ring out the window. But, at least he recognized that the week two love poem was weird.
All Eyes on Des
And then it was time for Des to take the stage – a women with more clarity about Ben than we, the audience, remembered. Apparently she knew he was insincere all along?
She also managed to find out that she was being manipulated – a lot. However, it was her choice to eliminate Juan Pablo that everyone was curious about. She was, seriously, the only person who didn't immediate fall in love with him.
She then went on to give Zak an explanation so beautiful that it moved him to play her a song. I don't really want to think about it anymore, but if Zak is ever able to move on, I can think of a few people desperate enough to take him on.
Here is what it was like to watch it, if you're interested.
After that, the only thing to do was let the blooper reel run and remind everyone about how they almost killed Bryden and how cute it is when Juan Pablo can't say yodeler.
Flash to the preview of next week – the sobbing, the declaration of uncertainty, the gaping audience members. What happened?
Only time will tell.