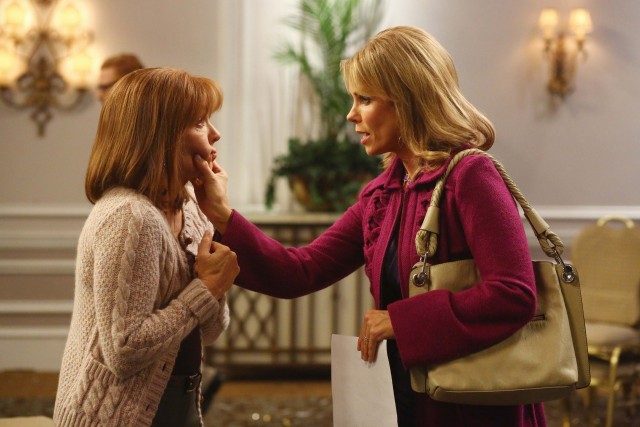 Frankie and Mike had a little too much fun on The Middle this week. Â Actually, all the Hecks tried something new, and most of them learned their lessons the hard way.
Since her dentist office was bought out by a big name company, Frankie was forced to attend a convention alongside Dr. Goodwin (Jack McBrayer) in Des Moines. Â She figured she'd take Mike along too, if only for him to switch things up in life and watch TV in a different location for a change. Â The convention was run by Cheryl Hines' character, who turns out to be more of a motivational speaker than anything. Â Her talks get the audience out of their chairs and up on stage dancing. Â It was a miracle to see her even break through to Frankie. Â She was in such a good mood that every night, her and Mike would live it up in their hotel room. Â We're talking room service, pay-per-view movies, dry cleaning, and mini bar raids. Â This is where I thought even Frankie and Mike were uncharacteristically stupid. Â "All expenses paid" generally means all necessary expenses paid. Â Meaning, just the room cost for those three nights. Â So on their last morning, as they were packing all the bathrobes and toiletries into their suitcases, Frankie really should not have been surprised to get the bill slipped under the door. Â It's just their luck, after all. Â Instead of trying to fight it and embarrassing herself in front of her new boss, she should've kept her mouth shut and been miserable with Mike. Â 
Sue experienced a typical college weekend for the first time ever after Axl decided he was going to crash with her. Â At first, this brother-sister roommate idea sounded like a disaster, and it partially was, considering the late night parties caused Sue to sleep through an exam. Â Axl got her through it, and now they have a few more fun memories together. Â He's already moving on to someone else's couch, but I like that they have an actual established friendship now.
With everyone else busy, this left Brick home. Â He may as well have been left home alone, since Grandpa Big Mike wasn't exactly the babysitter in this scenario. Â It's a wonder Big Mike still lives alone normally, as he seemed to really benefit from Brick caring for him all weekend. Â Rusty probably still lives with him, but I highly doubt he cares for his dad the same way his 14-year-old nephew does. Â This was all coming from the same Brick who couldn't find his way home from the library another time. Â Now he's going food shopping and cooking scrambled eggs for himself and his grandpa for dinner! Â 
What did you enjoy the most from The Middle this week? Â 
[Photo credit: Michael Ansell/ABC]