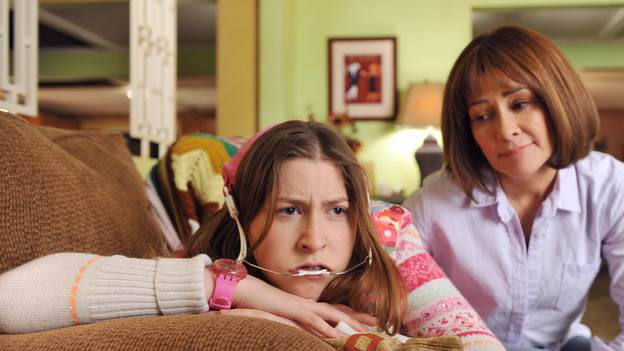 Just before last night's episode, "The Paper Route," news broke that Hallmark Channel has acquired The Middle and will begin airing the first 88 episodes beginning in March 2014. This is following an earlier announcement that ABC Family also acquired syndication rights and will begin airing The Middle in the fall of 2013. The family friendly show will fit well into both of these networks, and it is good news for the series.
In last night's episode, Brick decides he needs night-vision goggles that cost $34.95. Why would Brick want night-vision goggles? To read at night, of course. Any money that he received for birthdays, etc., has already gone toward books. Frankie and Mike tell him that if he wants something dumb that he doesn't need, he needs to earn the money for it (until he gets a credit card).
It's the last meet of the wrestling season, and Sue is cheering with all her might. The team wins for the first and only time, and she is so excited for her boyfriend, Matt. This is the perfect time for her to tell him that she's getting her braces off! Matt looks upset, but it's not because of the braces–his dad got a new job and he's moving away. Sue hugs him, "Oh, Matt. This must be love. You smell so bad right now, and I don't care."
Sue's day only gets worse when she gets her braces off: "You know how I had an overbite crossbite? Seems they overcorrected, and now I have an underbite overbite." It doesn't matter if this is a real thing or not, but it resulted in Sue needing to wear full headgear. Frankie tries to convince her that you don't even notice it after a while, but Mike walks in and says, "Whoa. What did they do to you?" She has headgear, Matt is moving away, and her lip is bleeding. Only Sue.
Brick got a paper route to save up for his night-vision goggles, and he promises to approach it with the same sense of responsibility he always does–of course, that's not reassuring. Mike thinks the responsibility is a good idea, and Frankie reminds him that they never did find Brick's gerbil. They let him take the job anyway. Brick's first paper is delivered perfectly, on the porch and perfectly parallel to it. As the day goes on, he dumps one paper on a walkway because he refuses to walk past a sprinkler, and then sits on another client's steps to read the paper.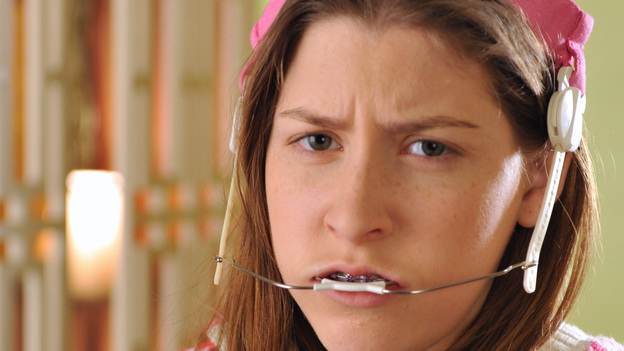 After school, Sue comes home in a happier state, saying that she and Matt decided that their love cannot be killed. They will have a long-distance relationship. Axl thinks Sue is delusional. On the answering machine, there is an automated message from the school saying that someone was absent. Turns out it was Brick, who spent the entire day completing only two-thirds of his paper route. The next morning, Mike takes him out and tries to teach Brick how to throw a paper from the car to the porch, but Brick can barely throw 10 feet. On day three of the paper route, Brick is sick, so Frankie and Mike deliver the papers. During the deliveries, they discuss why Mike chose to keep a secret stash of batteries and never offered them to the rest of the family when they were in need.
Axl is receiving PG-13 texts on his phone, and thinks it's great until Sue tells him that it's Matt–she had used up all of her own texts for the month in the days following Matt's departure. Axl is furious at his parents for not telling Sue that her relationship won't last forever, so he takes matters into his own hands. He explains to Sue that she had a choice when she entered high school: she could have started hanging out with cooler people, but instead, she decided to create the wrestlerettes. He continues, "Next, you date a hobbit, and never once stop to think how it would affect me. Before you do anything–anything–you need to ask yourself, how does this affect my super-cool brother?" Axl tells Sue that long-distance relationships don't work for guys. In short: her relationship is doomed.
Axl's lecture doesn't stop Sue. She falls asleep on the phone talking to Matt, and when Frankie wakes her up, she explains that Matt found some nice girl named Sherry to show him around. Of course, this doesn't phase Sue, who always sees the best in people.
The next day of the paper route, Frankie and Mike continuing delivering them without Brick because it's easier that way. They continue to argue about Mike's battery stash, because Frankie thinks that when you're married, you share everything. Mike reveals that he knows she stores her own can of frosting in the garage. She didn't know that he knew about that, but still, she says you can't compare frosting to batteries.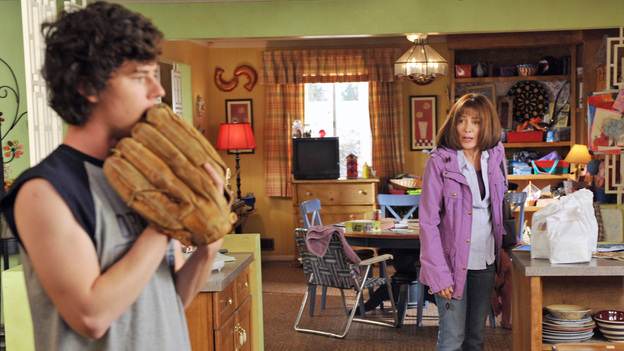 Matt keeps telling Sue about Sherry, and how she's funny, smart, pretty, and just broke up with her boyfriend, so she's lonely. She showed him where the movie theater is, she studies with him, and she walks him to school. Sue thinks it's great that Matt has someone to show him around.
The next time Frankie and Mike deliver papers, it's raining. The battery argument continues, and Mike says that at least he doesn't have a mistress; he only has secret batteries. Frankie gets out in the rain to deliver the papers so they arrive dry on the porch, and Mike fails to see why they are doing this. Frankie explains that it's about showing Brick how to do a job well, but Brick is at home. When they get home, they tell Brick he's quitting his job.
Matt finally breaks up with Sue, and she's shocked by the news that he wants to date Sherry. The rest of the family, particularly Axl, is not surprised. Sue throws herself on her bed and gets a blanket stuck in her headgear. Axl helps her get it out, and in his own way, explains to Sue that other guys will ("could") like her, "If you don't blow it, like sticking your head to furniture is not going to help." He stops Sue from sending Beyonce lyrics to Matt and invites her to come to his baseball game. Axl is willing to occasionally hang out with her as long as it's cleared in advance. Having been practicing pickoff moves for baseball the entire episode, Axl tries one at the game but the baseman misses the catch and the ball hits Sue smack on her forehead. With her typical attitude, Sue is only grateful that she had her headgear to partially protect her.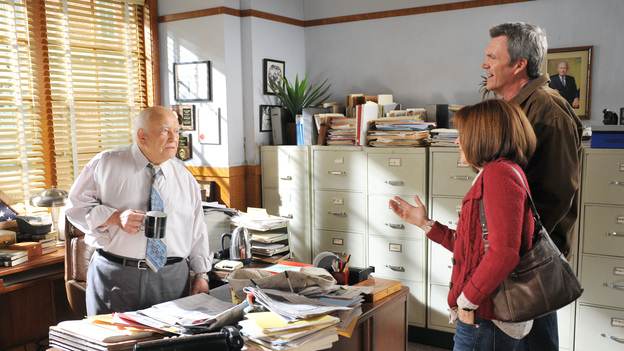 Frankie and Mike head to the newspaper office to drop off the carrier bag. Ed Asner guest stars as an employee of the local paper. He lectures Frankie and Mike about the importance of newspapers and how they are ultimately teaching Brick to quit. In the end, they keep the paper route, and Brick joins Frankie and Mike in the deliveries. Brick ends up getting his night vision goggles, but of course they require AA batteries (whisper: "double A"). Frankie knows Mike has some, but she's not forcing him to admit it. She goes to the store and buys her own stock of batteries, which she will keep with her frosting.
What did you think of this week's episode of The Middle, "The Paper Route"? Watch The Middle, Wednesdays at 8/7c on ABC.