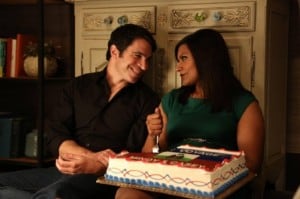 Casey and Mindy are practicing Skype sex, for when he is in Haiti. It, like everything on The Mindy Project involving Mindy, is awkward and a little uncomfortable to watch. Casey comes into the bedroom, because they were just doing this from different rooms in her apartment. She says she can't do this, maybe she should go with him to Haiti. He thinks that would be a great idea.
At lunch the next day Danny and Mindy are at a store shopping for something for Danny's ex-wife. He is trying to make her feel more comfortable in his apartment. While they are shopping Danny wants to know what is up with her moving to Haiti with Casey. He isn't sure she will do so well in a third world country, "You called 9-1-1 when a butterfly got into your apartment." In her defense she thought it was a colorful bat.
They get back into the office to find the rest of the staff in the conference room working on a "Mindy Pool". When questioned they admit they are betting on how long Mindy will last in Haiti. She says they are all underestimating her and to prove it she is going camping with Danny, his ex-wife and Christina this weekend. She'll show them.
The next morning, Christina, Danny, Casey, Mindy and Morgan for some reason are in the car heading to their camping site. Later that night the gang is listening to Morgan tell a scary story when Morgan's jacket catches on fire from sitting too close to the fire pit. Everyone jumps up and yells except Mindy, she grabs a blanket and smothers the flames.
In their tent Mindy and Casey are talking about how brave she was while Danny and Christina are in their tent where Danny isn't doing so well. Camping is not his thing, first the scary stories actually scared him and now he thinks there are ticks on him — which there aren't. He does take the opportunity to ask his ex-wife if she would like to camp out with him full time, in his apartment. She says yes, she'd love that.
Back over in Mindy and Casey's tent Casey is doing one annoying thing after another, flossing and getting the stuff from the floss on Mindy, reading and laughing out loud while she is trying to sleep. He tells her their tent in Haiti will be much smaller than the one they are in now. This is something she is not so okay with since he has gotten on her nerves after only a few hours of camping.
A few nights later Danny and Christina have thrown Casey and Mindy a going away party. Mindy is in the corner of praying to God because she isn't going on this trip with Casey, she just can't do it, and she hasn't told him yet. Her prayers get interrupted by the Deslaurier brothers. The midwives are there to wish her well, but when Duncan hugs her he can sense she is having second thoughts. She calls him a sorcerer and goes to get a drink. Also at the party is Jamie, Mindy's ex played by B.J. Novak. He is so impressed with what they are doing. Poor Mindy just keeps standing there looking uncomfortable.
Danny, who is also uncomfortable with how quickly he and his ex are moving, finds Mindy sitting on the floor of his bedroom eating her Bon Voyage cake. He sits down next to her and they both say how happy they are to be happy. Danny comments about most guys being freaked out when you push them too far too fast and it gives Mindy an idea.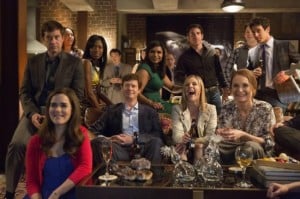 Mindy takes Casey into the bathroom to tell him she can't go to Haiti unless they are engaged. Since they have only been together three months she gets it if that is too fast. So she'll stay in New York and he will go to Haiti and she'll write him letters. Casey pulls her out of the bathroom and gets everyone's attention. He says when he met Mindy he didn't realize she would be his future wife. To the surprise of everyone, no more so than Mindy, he gets down on one knee. Just when he is about to say the actual proposal Mindy tells him she doesn't want him to propose and she doesn't want to go to Haiti. Now it's his turn to be surprised. He is upset and leaves the party.
Mindy is about to leave too since she is pretty embarrassed when her pager, Jeremy's pager and Danny's pager all start beeping. One of their patients is in labor with triplets. They arrive at the hospital where they change into scrubs and get to work. They deliver the babies and afterwards Mindy is talking to the mom. Mindy is going on and on about how many people there are going to be in their apartment now that they have the triplets. The mom says they wanted kids and when the universe threw this at them, well sometimes you just have to say yes.
Mindy takes that advice and runs all the way to Casey's apartment. He won't answer the buzzer so she starts yelling, "Casey!" from the street. His neighbors all open the windows and yell at her. Finally she gets Casey to the window and she apologizes for being such a jerk earlier, she wants to go to Haiti and she wants to be with him. He says no, she should just go home. Mindy pulls the hood of her sweatshirt down to reveal that she cut her hair, a sign of her commitment to going to Haiti with him. Casey gives in and says he will be right down.
Later Mindy is at the hospital with Danny and he mocks her hair, they now have the same haircut. He also says he told Christina he needed to slow things down. Midsentence he looks at Mindy and leans in taking her glasses off of her face. She had something on them he felt the need to clean right that moment. It really looked like he was going to kiss her. He cleans the glasses off and puts them back on her face. They sit on the couch facing each other, slowly getting closer until Mindy breaks the moment by saying her and Casey got back together, she is going to Haiti. Danny leans away and says that's great. The episode of The Mindy Project ends with them sitting in the hospital doctor's lounge watching TV in silence.
So that's it, the first season of The Mindy Project. What did you guys think? The show is growing on me but I find I still don't always love it. Sometimes I feel like the episodes don't gel quite right together but like I said, it keeps getting better so hopefully it will continue to do so.
The Mindy Project will be back next fall with all new episodes on Fox.