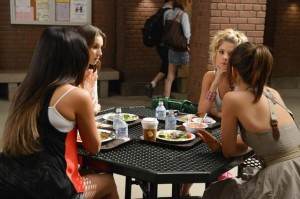 Game on, Little Liars.
Last night's Season Three premiere of Pretty Little Liars gave us a revamped show of sorts where the girls were shaken to the core again with new revelations, new secrets, and what could be a far more dangerous 'A' than Mona. Let's look at the top things of note from last night's episode that has fans still talking.
1) Where The Hell is Allison's Body?!?!
The girls (and us) were shocked and horrified to find out that Allison's grave had not only been dug up, but someone boldly took the body along with them! Or… was there even a body there in the first place? The latter seems somewhat implausible given that the police have evidence of a murder. Then there's the infamous coroner's file with the missing page 5 that landed Garrett in jail for Allison's murder. So there has to be a body out there somewhere, but who would be sick enough to go grave robbing to prove a point? This 'A' did tell the Liars that they played with real body parts, so we're betting that this 'A' is not to be messed with if they are that deranged in the brain.
2) Emily is Still The Weak Link
It's been five months since the night of Maya's death and Emily still hadn't shown any signs of overcoming her mourning. This has led her into a seriously vulnerable place for the new 'A' to torture relentlessly, starting with putting her at the scene of Allison's grave robbing with no recollection of what happened. Who could have driven that blue car? Is it the same person who visited Mona at the end of last season? Could both individuals be the new 'A'? Either way, they have Emily already wrapped around their finger like a diamond ring from Jared's.
3) Mona Sees Dead People
Well, at least she see's only seeing Allison at this point, but she's seeing Allison in the same outfit that the blonde stranger came to see her in at the end of last season. Are we to believe that she saw Allison in the flesh or was that visit a hallucination as well? Plus, Hanna visiting her friend despite all the crap Mona's done to her? That's Humanitarian Award of the Year worthy, if you ask us. But it was a necessary evil for the Liars to get some info on their new tormentor as well as find out what drove Mona to snap in the first place. With that said, it wouldn't come as a surprise if these visits will get Hanna and her friends in some sort of hot water soon.
4) Where The Hell Was Jenna?
The formerly blind bombshell was absent from this episode, but that doesn't mean that she's not out there pulling strings. Maybe she's the new 'A'?
5) Byron and Ella Split Over 'Ezria?'
The news of the Montgomerys' split came as a somewhat shocker, especially after they were doing so well in patching up things in their marriage. Byron is still firmly against the idea of his daughter being with an older man, but Ella has accepted the relationship to not push Aria away to do something stupid. Or has she? It was clear when Ella and Ezra saw each other last night that Ella was far from being "okay" with Ezra and Aria's relationship. So is there something else that put another wedge between Byron and Ella? It has been five months, you know…
6) Spencer Hastings, Super Sleuth
Spencer has officially become the 'mother hen' of the group and wants to protect her friends at all costs. Even if that means keeping in contact with murder suspects (Garrett) and constantly renting out 'A's' old base of operations to find more clues. Should Spencer trust Garrett by helping him get a lawyer in exchange for info on Allison's murder and body location? And what about that motel room? Should she still be going back there?
7) A Couple of Other Questions…
– How did the police know that Maya found something of Allison's? Did she tell her parents? What could that something have been for it to lead to her death?
– What in God's name was up with Lucas? He seems extra shady this time around and we are not talking about the skeevy 5 o'clock shadow he's sporting now.
So did you all enjoy the season premiere of Pretty Little Liars? Do you have a suspects list already? Let us know!
Photo Credit: ABC Family