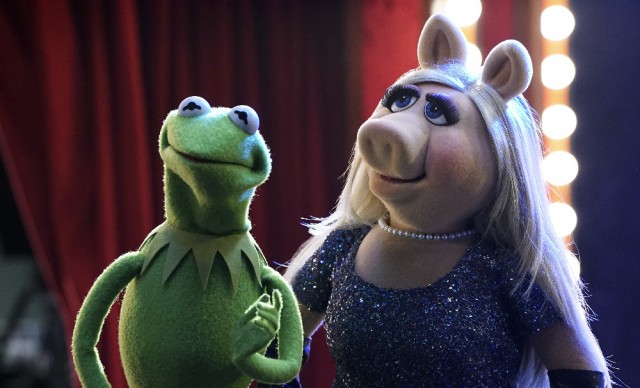 It has finally happened. The Muppets have made their long-awaited return to primetime. The news is met with mixed reviews. Some critics believe that The Muppets is too adult, missing the point of being The Muppets. However, it seemed to me like it perfectly captured the spirit of Jim Henson's titular characters and translated them to today's TV landscape. And honestly? I found it pretty successful.
This week on The Muppets: The documentary-style show begins by introducing you to the real lives of all of the characters. Kermit and Piggy, now broken up, must learn to continue their professional relationship. Gonzo struggles in the writers' room. Fozzie meets his girlfriend's parents for the first time, and hopes introducing them to Miss Piggy will help smooth things over. Miss Piggy (host of "Up Late With Miss Piggy") wants Elizabeth Banks bumped from her show. Guest stars include Elizabeth Banks, Tom Bergeron, and Imagine Dragons.
There was certainly no lack of material in The Muppets' maiden voyage. This episode was packed to the brim with jokes and miniature plot twists that it moved right along. The pacing was impeccable. We all knew that Bill Prady was a strong comedic mind, but it seems that he had a plan and executed it to perfection. There was nothing extraneous or anything weird detracting from the central plot stories.
Now for the big decision. As a lifelong fan of The Muppets themselves, I wasn't sure what to think when I started reading the other reviews. I was worried that my sense of humor was WAY too juvenile for these new "adult" Muppets. I mean, The Great Muppet Caper still cracks me up to this day, and it can't get much more corny than that. While it wouldn't be far-fetched to say that I was worried, any fears I had were quickly assuaged; the new format does not change my feelings about The Muppets in any way. The Muppets, while definitely made for adults, stays religiously true to the characters we've known for many years.
The Muppets is sharp, witty, and well-executed. Granted, I'm most definitely in their target audience, but I felt extremely connected to the material. This show is "Muppets" of old meets The Office and Modern Family meets Late Night TV. Sure, it's a different format than we've seen The Muppets do before, but it retains the dry humor and razor sharp wit that filled up big screen hit after big screen hit.
I remain excited about where the show is headed, because there is so much potential. In the pilot, I expected to learn about Kermit, Piggy, Fozzie, and Gonzo, while I saw many other beloved characters flooding the background (you can't have an audience without Statler and Waldorf, for instance). However, as the series goes on, I think it will be extremely sustainable to delve into the other Muppet characters more. Animal, Scooter, Sam the Eagle, Dr. Teeth. We didn't even see Rolf, or Walter. Heck, I'd like to find out why Statler and Waldorf are so grumpy! The Muppets presents a unique opportunity to explore the same characters and style that we know and love but in a totally new way.
As I often do with comedies, here are some of my favorite quotes/moments from the episode:
"Should've worked. It was a cable from a wrecking ball"- Fat jokes, Muppets style
The whole bit with Sam the Eagle being the censor. Particularly "Gesticulate."
"You walk into a room full of dancing stars, and you come back with Tom Bergeron?"- Kermit to Scooter. I'm going to love this relationship with the other ABC shows. I can feel it.
"We ended up…cross promoting."- Kermit
"Animal got better idea?"- Another Kermit gem
"Too many women. Too many towns."- Animal
Well, I'm a lifelong fan of the Muppet characters, and I'm sold. I'm absolutely itching to continue watching this show. Hopefully, it will continue its strong trajectory and remain a big part of ABC's comedy lineup. If not, maybe they can just make "Up Late with Miss Piggy" real instead.
What did you guys think of the first episode? Did you think it was funny, or too adult for The Muppets? Let us know in the comments!
The Muppets airs Tuesdays at 8/7c on ABC.
[Photo credit:Â Eric McCandless/ABC]