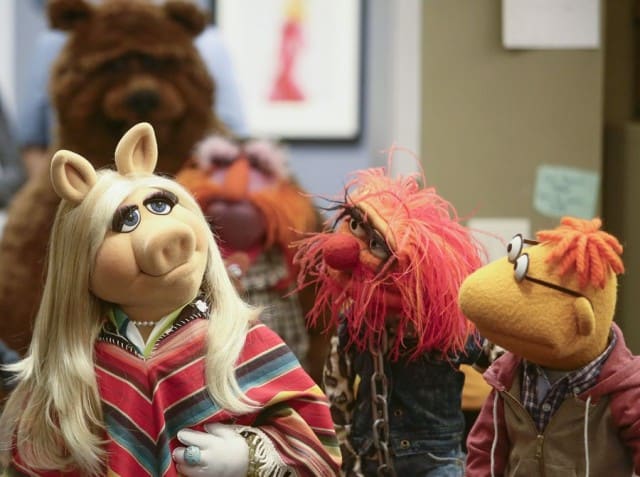 Yes!!! The Muppets is/are back!! The previous 10 episodes came in with mixed results. There were some things that they've done very well  in their freshman run, and some things that they've done not so well. The story of the week was the "re-formatting" of the series, and some slight tweaks to make it more concise, viewer friendly, and, well, "muppety". Friends, let's rejoice. It worked!
This week on The Muppets: The whole gang comes back to work, to find out that the network has hired a branding expert to tweak their show. Kermit and Piggy consult with Key and Peele, who have worked with this particular branding expert in the past. Kermit is in turmoil with Denise. The tweaks they make to the show are frantic, but pay off in a big way.
I was really impressed with this whole episode. It's almost as if they were reading my reviews in the first half of the season, and making adjustments based on what I critiqued. I like that they're portrayed like real people with feelings, but they're still Muppets! I argued that in the age of viral videos (like Fallon and Kimmel are constantly cranking out), Up Late with Miss Piggy wouldn't last two weeks. However, not only did they cleverly bring about change to the show in a way that truly felt organic to the show, they've totally re-kindled the Muppet magic, and in doing gave all of us Kermit-Piggy shippers (Kiggy? Permit?) hope. Color me impressed!
The use of Muppet characters was just better than it has been, and it was even explicitly stated on the show. (Welcome back, Lew Zealand!) Kermit said that they had the key on their staff, and he was right. The two best parts of this entire episode were Pepe the Uber Driver, and Bobo doing a Real Housewives dramatic reading. Those are the kind of viral-esque videos that will keep everyone laughing and talking about the show.
Aside from the new, more "viral" show, the characters stayed real. Kermit and Miss Piggy really displayed their chemistry. As a matter of fact, I didn't groan at one thing that Miss Piggy did in the episode. That's a huge win in my book. I was overwhelmed with emotion during the song they sang together, and it awakened all of my Muppet-related feelings.
As always, here are some of my favorite quotes/moments from the episode:
"It was a long, somewhat boozy game of Monopoly"- Kermit
"She thinks she can speak Spanish now. It's a nightmare."- Uncle Deadly
"I make old things fun."- Pizza (Potch-ay)
"Siri. SIRI?!?"- Animal, to a muffin
"Shedoink. Cancelled."
"Seriously. When I'm nervous I stress-eat butterflies."- Kermit
What an incredible turnaround for The Muppets. Hopefully this transition sticks, because this is now a show I can't wait to watch more of. Hopefully nothing will be Shedoink. Cancelled. in the near future.
What did you guys think? Did you enjoy the new format of the show? Or were you longing for the previous style? Let us know!!
The Muppets airs Tuesdays at 8:30/7:30c on ABC
The Muppets Season 1 Episode 11 Review:
Summary
The whole gang scrambles to make changes to their shows format on an excellent episode of The Muppets