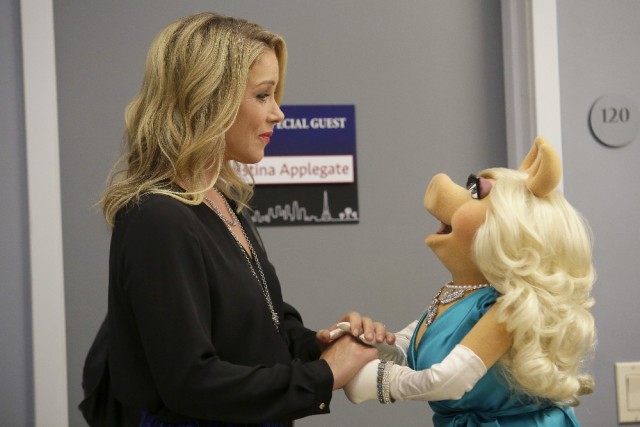 What a clever episode title, no? The Muppets is now in its third week and, as a series, must prove its long-term sustainability. It's performed really well on the surface level so far, and now it's time to dig a little deeper and explore characters and relationships. Fortunately, "Bear Left Then Bear Write" proved that there is much more substance to The Muppets than people realize.
This week on The Muppets: Miss Piggy gets into a feud with Christina Applegate after she shows an embarrassing clip of Piggy on the show. Fozzie pitches Kermit a sketch that Kermit pretends to like. With Kermit's "support," Fozzie quits the show and aims to become a writer. Gonzo fudges his appearance on his dating profile, so he asks Liam Hemsworth's help when it comes time to meet.
There is always a lot happening on The Muppets because there are so many characters. It's going for a variation on The Office, and in that vein, the show is extremely successful. The writers are doing a lot of things right. They're leaning on the characters' notoriety, but exploring their hopes, dreams, vulnerabilities, and making them relatable to human beings. Fozzie and Kermit are best friends. Gonzo and Piggy are insecure. There isn't anyone in the world who can't relate to that. I'm really impressed so far with the way these characters have been brought to life.
If there is one thing that I do NOT like about this show (and that's a big "if"), it's Miss Piggy. To be honest, it's been hard for me to like her through every Muppet film or product I've ever watched. She falls into a lot of negative female stereotypes: being needy, whiny, and overly aggressive. I have to compliment the show, because they have managed to capture the same Miss Piggy from the Muppet universe and successfully translate her into this show. All of the characters are smartly written within what feels real, but Miss Piggy probably the most. I still generally have a distaste for the character, but I'm glad they didn't change her.
The other two stories were really quite impressive. Gonzo's story about the dating website was really fun (and a great use of Liam Hemsworth) and produced some of the better comedic moments of the show. Fozzie and Kermit's story was similar. It produced laughs and it had a lot of heart underneath. If The Muppets continues to produce stories like these, the show should have a very successful run on television.
As always, here are some of my favorite quotes/moments from the episode:
I really loved everything involving Rolf and his surgery. He's one of my favorite Muppets.
"Okay but it's also wide."- Pepe the Prawn, describing the "White" House
"I'm Chip. I'm the IT guy."- Chip, the IT guy
"Leave her a note saying you love her and you're ashamed. Then, drink poison."- Pepe, who was really on his comedy game this week
"I will take a cappuccino machine."- Ron Swanson Nick Offerman, cashing in the favor
"Oh please, what else you got? Netflix?"- Pepe
"I have struck out a few times, just at a really high level."- Liam Hemsworth, encouraging Gonzo
"I'm thinking of naming my sloop ;Cappuccino.'"- Nick Offerman
"After the way you treated me, I'm surprised you made it up here."- Fozzie (who thinks they're in heaven) to Kermit
I really appreciate the continued celebrity cameos and all of the fun stories the The Muppets has been able to explore since rejoining primetime television. I have really been excited by (most) everything the show has done,and I can't wait to see more.
What did you guys think? Did you enjoy the episode as much as I did? Let us know!!
The Muppets airs Tuesdays at 8/7c on ABC.
[Photo credit:Â Nicole Wilder/ABC]