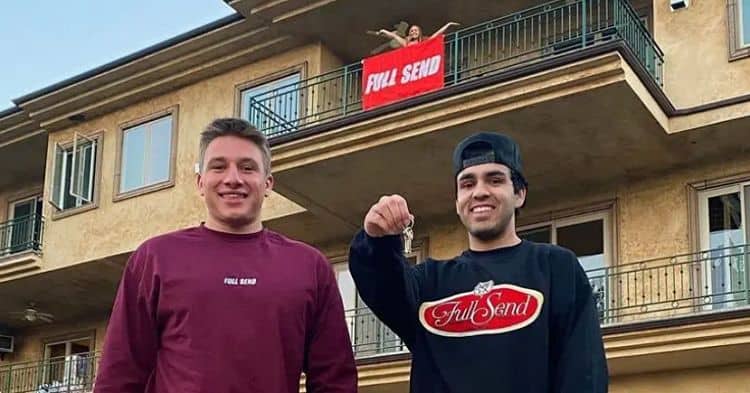 If you've ever gotten sucked down the rabbit hole on YouTube (admit it, you have), you've probably stumbled across some videos by the NELK Boys. The popular Canadian YouTube channel has become well-known for its hilarious prank videos. Since launching, the channel has gained more than 5.5 million subscribers and they've officially established themselves as a brand. Their content has reached people from all over the world and their numbers are consistently going up. Although lots of prank videos have a tendency to be corny and fake, the NELK Boys bring a level of creativity that is unmatched. Keep reading for 10 things you didn't know about NELK Boys.
1. They Support Charitable Causes
The NELK Boys definitely don't have the most serious online presence, but joking isn't the only thing they care about. Over the years they have used their platform to support several charitable causes including breast cancer awareness. They've also raised money for COVID-19 relief.
2. They Have Merch
Through their fanbase, the NELK Boys have built a community that includes people from all over the world. Their fans can show their support by purchasing Full Send merchandise from their eCommerce store. They have a wide variety of items including jerseys, hoodies, and t-shirts.
3. They've Had Some Trouble With The Law
Not everyone thinks the Nelk Boys and their pranks are funny. Over the years, they've had a few run ins with the law over pranks that went a little too far. Most recently, they were under investigation by a police department in Illinois after they hosted a large gathering that violated COVID-19 regulations.
4. They've Collaborated With Tekashi 69
Collaborating with a celebrity is something that many YouTubers only dream of, but it's become a reality for the NELK Boys. They've recently teamed up with rapper Tekashi 69 for a series of pranks in which they trick people into calling him a snitch only to reveal that he's been watching the whole time. For those who aren't familiar with 69, he became the talk of the industry in 2018 when he cooperated with police in a shooting investigation in exchange for a lighter sentence.
5. They Also Have A Big Following On Instagram
YouTube is the platform that made the NELK Boys famous, but it's not the only place where they have a large following. They've also built a strong presence on Instagram and they currently have 3.6 million followers. Their Instagram account consists of clips from their videos as well as pictures from their adventures.
6. They're Basketball Fans
NELK Boys founders, Kyle Forgeard and Jesse Sebastiani, are both from Toronto and they're very proud of it. As Toronto natives, it's only right that they support the city's NBA team. When The Raptors won the national championship 2019, The NELK Boys shared a celebratory post on Instagram.
7. Jesse Sebastiani Once Worked With MTV
Co-founding The NELK Boys wasn't the first time Jesse Sebastiani found himself in front of a camera. Prior to becoming a YouTuber, Jesse was part of the Canadian MTV series, Careless Teens. Jesse also has his own YouTube channel, but he hasn't posted anything in six years.
8. They Have More than 700 Million Views
When most people think of The NELK Boys, the first thing they notice is the millions of subscribers their YouTube channel has. But what's even more impressive than their number of subscribers is the number of total views. At the moment, The NELK Boys have over 700 million views.
9. They've Been At Risk Of Getting Banned From YouTube
Despite the popularity The NELK Boys have had on YouTube, they've also been at risk of being completely banned from the platform. In February 2018, the boys lost their monetization deal with Broadband TV after they posted a prank video in which they pretended to be fake Google employees. YouTube removed the video and suspended The NELK Boys from posting for two weeks. If they would've gotten in trouble with YouTube one more time within three months of the issue, they would have been banned from the platform. Being banned from YouTube
10. Several Members Have Come And Gone
If you've been a fan of The NELK Boys since the early days, you have have noticed that the 'roster' has changed a bit over the years. In addition to the founding members, several other people are often featured in their videos including Cousin Jay and Jesse's father, Pat. Niko and Marko Martinovic, Lucas Gasparini, and Jason Pagaduan are all former members of the group. The NELK Boys currently live together in a house in the Los Angeles area.