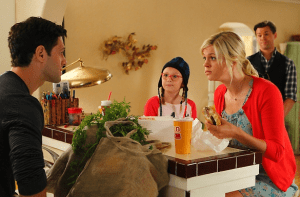 Last week on The New Normal, Goldie (Georgia King) and Bryan (Andrew Rannells) discovered that they were "not out of the woods" with the pregnancy as David (Justin Bartha) and their doctor went on a soliloquy about the numbers of tests they needed to do in order to detect a large range of defects from spina bifida to (gasp!) red hair.
This week on The New Normal, as Shania (Bebe Wood) prepares for her school's upcoming mock election, she lets the cat out of the bag that Golie is casting her real vote for the republican ticket. Horrified, Bryan and David begin their own campaign to try to sway her vote in the democratic direction. The ever meddling super republican Jane (Ellen Barkin) is not at all pleased with their attempt to 'Obamify' her daughter, prompting the boys later to throw a party to prove to her that they do, indeed, possess a diverse group of friends.
Watch a preview of tonight's episode entitled "Obama Mama" below.
With The New Normal settling into a groove now, do you think it has the staying power to dethrone Best Comedy Emmy winner "Modern Family?" Share your thoughts and opinions on The New Normal forum.
The New Normal airs Tuesdays at 9:30 / 8:30c on NBC.