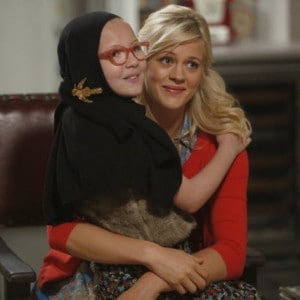 Last week on The New Normal, Bryan (Andrew Rannells) and David (Justin Bartha) got the good news that they were going to become parents when Goldie's (Georgia King) pregnancy test came back positive. Despite some meddling from Nana (Ellen Barkin) and a few bumps in Shania's (Bebe Wood) adjustment to her new surroundings, the newly formed family seemed to be settling into a rather nice dynamic.
Such big news couldn't, of course, come without a few reservations as Bryan, after seeing a smiley face drawn in magic marker on his couch, assumed that it was the work on Shania (it was actually Nana) and began to realize a baby could potentially (and most certainly) bring even more mess, which is something he was not too on board with. David, on the other hand, got an ear full from his basketball buddies, all of whom were confused by why he would want to give up his freedom. In an attempt to recapture their youth, Bryan and David headed out to the clubs where they discovered that that part of their lives had moved on and that they were both ready for a new chapter.
Now that the formalities have gotten out of the way and we know that there is indeed a baby on board, we can start to look forward to all the inevitable issues that will come up throughout the pregnancy, which should be good for a lot of laughs.
Tonight on The New Normal, Bryan goes overboard and starts buying way too many baby clothes which prompts an intervention of sorts that sends the whole crew to an outlet mall. When the ever unique Shania wears one of the new outfits to school, she makes a new friend that prompts Nana, who just won't leave town, to get involved with Goldie at a parent teacher conference.
The New Normal airs tonight at 9:30/8:30c on NBC.