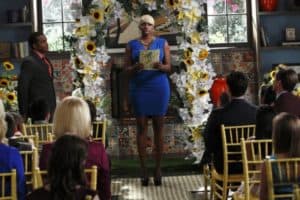 Tonight on The New Normal, Goldie (Georgia King) and Bryan (Andrew Rannells) are working overtime to help prepare a wedding extravaganza for Shania's (Bebe Wood) upcoming pretend wedding to her classmate.  Although it might be a pretend wedding, in Bryan's world, it is a "real pretend wedding," complete with gourmet appetizers and a wedding dress, and if he has his way about it, this faux ceremony looks to be the event of the year.
Although Bryan, Goldie, and Shania are having fun with the fantasy nuptials, others are less thrilled with it. Rocky (NeNe Leakes, after some badgering, reluctantly agrees to help, all the while drinking cocktails and declaring she was up all night hating her life.  As per her usual meddling self, Jane, aka Nana (Ellen Barkin), gets busy recruiting some of Shania's fellow classmates to put a stop to the charade.
Throughout the process of planning the big day for Shania, David (Justin Bartha) begins to see that this wedding is more than just a game for Bryan, leading him to make a big decision that will change his life.
What do you think of The New Normal so far this season? Is it living up to the hype? Share your thoughts and opinions on The New Normal forum.
The New Normal airs Tuesdays at 9:30/8:30c on NBC.