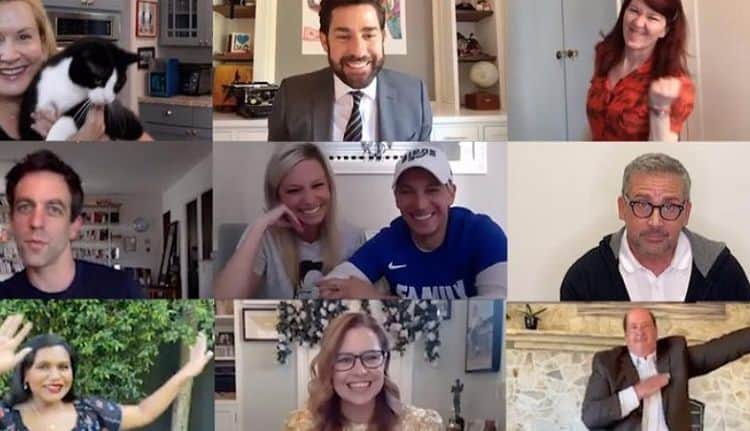 This might actually be enough to make someone cry, including the bride and groom in this special Zoom wedding put together by John Krasinski using the help of his Office costars as he goes over a wealth of information and clips on how people are finding ways to keep it together during this hard and trying time. Lisa Respers France of CNN has more to say on this topic. If anyone needed further proof that it is possible then this video should help since it details just how people are making life work during the quarantine. Things aren't perfect, that's pretty obvious, but a lot of people are still finding ways to live each day as well as they can and keep from becoming too depressed over the fact that life has changed immensely in the past couple of months. Kraskinski still has it in him to keep reporting on the good news he's found throughout the world, and has been keeping people in good spirits for a little while now as he's taken the time out to help a couple realize their dream of getting married, on Zoom no less. Now for those that are still getting used to Zoom (hand raised over here) it's a fun service that's not too hard to get used to and with the right camera on your system can provide a very pleasing conversation as like so many similar apps it allows you the chance to see who you're talking to in real time, therefore making it as close as one can be at this time when it comes really being with someone for an honest conversation.
Let's face it, taping a message to deliver to someone on YouTube just isn't the same since people like to give and receive feedback from others. We're social beings as a lot of folks have said throughout the last several weeks, and it's tough to go without being around people for those that aren't introverts, especially when one is used to being around others so often. Let's face it, introverts are among the strongest people at this time as life hasn't changed and the lifestyle of many has apparently been vindicated in a way. But even the most staunch introvert needs human connection at times in order to survive, a humans living in a social vacuum aren't quite as functional. While an introvert might only interact with a handful of people in their life, most still have some sort of connection to the world that allows them to pick up on social cues and other hints of how the world around them is doing. For others, those that are outgoing and need that social interaction on a regular basis, the coronavirus and the subsequent lock down have been a tragedy in the making as it's pushed people away from each other in a manner that we haven't experienced in some time, if ever. Ron Dicker of Huffpost had more to say about the video and why it's a positive turn in this instance.
John Krasinski isn't the only person that's trying to make a difference in the lives of others that have been affected by the virus, but he's surely one of the more entertaining as he's continuing to focus on the positives, which is great since the negatives are all too present and have been noted upon social media and in many other areas. It's just as obvious now as it's been in the past that a tragedy of any sort will divide people just as much as it unites them, causing many to point the finger at those they believe are responsible for this or that. In this kind of time it's at least somewhat important to figure out how to stand together and see the positives that are all around us, though some folks are adamant about seeing the negatives. With John Krasinksi's SGN though it's fair to say that it's easy to smile and just enjoy the entertainment he provides and be touched that he called up The Office staff, some of them at least, to help out with this Zoom wedding and make it a special treat for the couple, who admitted that The Office was one of the things they had in common. Funny how that works, isn't it? There are those people that come together thanks to pop culture and their shared like for a show or movie that makes the relationship a little more special. Hopefully the couple will enjoy a long and happy marriage and will remember this moment for a long time to come since it's the type of memory that one would no doubt wish to keep for as long as possible. Karen Han of Polygon had something to add to this subject.
So while the world around us is actively trying hard to get past what is considered to be one of the worst things to happen in a long time, there are plenty of people like John that are willing to give that one special moment to those that deserve it.