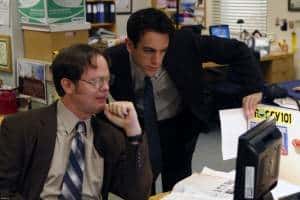 It seems that all people can talk about lately, when mentioning The Office's upcoming sixth season, is the Jim and Pam wedding. BLAH! Although I'm not a hater of their union on the show, at this point I can't help but have the feelings of WHO CARES!! There is so much more great stuff to The Office and I want more more more. Thankfully, we're within the two-week mark of the season 6 launch, and we finally have some spoilery news that does not involved Jim and Pam getting married.
Paul Liberstein revealed that they will try to make Michael Scott (Steve Carell) "a little wackier" because they enjoy the "wacky Michael." As awesome as this sounds, I'm more interested in seeing how they actually pull this off. Michael is already pretty darned wacky and creates so many moments where I want to scream AWKWARD at my television that it's tough to imagine them making him MORE over the top. Still, something that I can't wait to see how they manage it.
It also seems that the new summer interns have been busy belting out the "Gossip" which is the name of the first episode of season 6. So what kind of gossip are they dishing out?
Well, for one, that Oscar does the voice of the [recently deceased] Taco Bell dog. Okay, I can see that.
That Andy is gay. Okay, again, seems possible.
And finally that Kelly has an anorexia eating disorder. Hmmmm. Yeah, not seeing that one so much.
And finally, from HR Officer Toby on the show, we've recently learned that most of the new season will be taking place insice the Dunder Mifflin offices. The reason he gave was that fans seem to like in-the-office stories better, and therefore they are trying to feature more character interactions within the office. Liberstein was quoted saying, "After 100 episodes, it's hard. But we're trying harder to do it. Some episodes are out."
I know, I know, that's not a whole lot to go on, but it's all we've got for now. At least it's nothing new about the wedding!! Now enjoy the promo images below and quit your belly aching.
[imagebrowser id=87 template=flipped]
[nggallery id=87]
Source: BuddyTV
Photos courtesy NBC