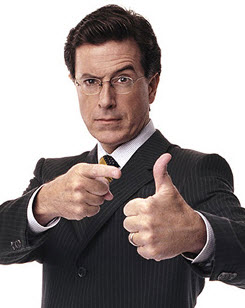 Well, this was bound to happen sooner or later. With both bosses of The Office, Steve Carell and Ed Helms being ex-popular Daily Show correspondents, it seemed logical that at some point, Stephen Colbert would descend off his late night throne and join them at some point.
Colbert will be guest starring in an episode of The Office this season as Broccoli Rob, a member of Andy's Cornell acapella group, the one he's always talking so much about. Colbert can sing, and has, on a few occasions, and I wonder what songs they'll bust out on the show?
It's going to be during the Halloween episodes on October 25th, and those are always my favorite Office episodes. I really just like to see what Kevin dresses up as.
This also begs the question, will the man himself, Jon Stewart, actually ever show up to the show that's so popular with all his alumni? Sure, the man doesn't act all that much anymore (and if you've seen any of his work, it's perhaps not his strongest suit), but I think they should work him in before the show ends, which is uh, soon. With Dwight and Kelly leaving soon, the show is slowly being whittled away.
How much longer do you think The Office will last?