LOST fans, check your bank accounts and prepare for an amazing August.
ABC Studios has partnered with Profiles in History for a live and online auction on August 21 and 22 featuring authentic LOST props, set pieces and wardrobe.
Profiles in History owner and CEO Joseph Maddalena is a renown entertainment memorabilia collector and dedicated LOST fan. He started working with ABC in May of 2009 to determine which items would go up on the auction block.
I recently caught up with the very busy and multi-tasking Maddalena on the phone, and his enthusiasm further fueled my fervor for the opportunity to bid on specific items from favorite scenes and characters.
In addition to smaller props like Dharma beer cans and Ajira Flight 316 tickets that will be up for bid, Maddalena teases that 'you're going to be surprised, because even the plane – from small pieces to actual seats from Oceanic 815 — will be available.'
But Maddalena realizes the importance of price points for fans on a budget who are hoping to own a small piece of LOST history. 'We're estimating everything very reasonably so that every LOST fan out there has the chance to walk away with something.'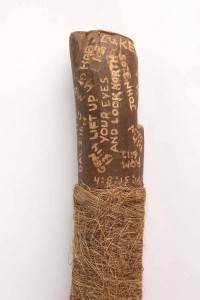 'We've got wall fragments from the hieroglyphics in The Temple. There are going to be multiple costumes available; you can create a set from your favorite characters. We have the Dharma van, Hurley's Camaro, the Dharma jeep, and the sub. I think people are going to be really blown away because it's not just the items that you'd expect.'
If you are planning to participate in the LOST auction, you will be able to register with Profiles in History beforehand. You will then be directed to their bidding partner, Live Auctioneers. Maddalena elaborates, 'It is a traditional live auction and people will be able to bid online. When the auction begins, you can bid anywhere in the world — live – from your computer. If you're interested in Lot 12, for example, you watch for it online and wait for it to come up. Keep in mind that because it is a live auction, you may have to stay up until the wee hours of the morning to bid on the item you like.'
A full-color LOST auction catalog will soon be available for purchase and downloading. Maddalena is hoping that the catalog will be up on the Profiles in History site by July 25. In the meantime, you can preview 100 of the items now.
The Official LOST Show Auction and Exhibit will take place on August 21 and 22, 2010 at the Barker Hangar in the Santa Monica Airport. Exhibit hours are 9am-1pm, and the auction begins at 1pm. Fans who are lucky enough to attend in person will get a sneak peek at the Ben and Hurley epilogue scene ('The New Man in Charge') from the Season 6 and Complete Series DVD/Blu-Ray sets, which will be released on August 24.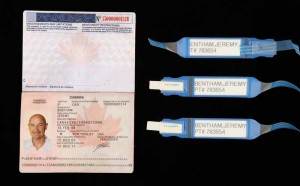 If you would like to attend the auction in person, tickets for the event will be available in early August. If you are planning to bid online, I strongly recommend that pre-register as soon as that option becomes available.
I don't know about you, but I might have to stay up for 48 hours in order to bid on a few select Juliet items. What would YOU love to potentially own from the vast LOST list of outfits, props and set pieces?
[Twitter: @jopinionated]