The clock is winding down on Melrose Place with it's season, and (sadly) possible, series finale and the ratings are still looking anemic. The show has not only taken a beating in the ratings game, but with snarky critics and non-fans as well. Non-fans are calling for the cancellation of the show for reasons ranging from simple competition for slots for One Tree Hill and new hit Life Unexpected to just people who have some sort of need to hate something that doesn't pertain to them. You know… Like people against the recently passed health care bill. But I digress. Melrose Place needs someone to stand up for it in it's time of need and I feel like I am that man for the job. So whatever the reasoning behind people's dislike for the show, I am here to plead Melrose Place's case for a second season and will serve as it's defense lawyer in the current trial of The People Vs. Melrose Place, which is pretty much what it is looking like in the TV blogosphere. So sit back and let me present the evidence that Melrose Place deserves a second go like every other show on The CW does.
Exhibit A) – The Show Has Picked Up Tonally And Is Different Than It Started Out…
Melrose Place started off on a rocky start when they killed original series character Sydney Andrews (Laura Leighton) in the pilot episode. Some people said it was a bad move that alienated the original series fans and without that core audience, the show was doomed. But I think it was a great idea to introduce the characters in light of the mystery at hand, because who would've cared if a new resident was the one floating in the pool at the beginning of the episode instead of someone established and well known? I sure as hell wouldn't. The characters are fully fleshed out now and can move on with their lives, which means crazy plots and insanity galore to come. The original series spent half of its first season building up their characters hopes and dreams before tearing them down with the crazy on a weekly basis. The route the original series took might not have worked with today's audiences, because it wasn't too serialized and plots were wrapped up by episode end. So what is wrong with having a half-season long mystery to keep you coming back, while learning the characters in the process?
Exhibit B) – Katie Cassidy As Ella Simms
Need I say more??!? Katie Cassidy as the delectable Ella Simms is a reason alone to watch this show. She brings life to MP and her one liners are worthy of an Amanda Woodward's School of mean class if one existed. Cassidy has a glow about her that helps bring the old concept of "beautiful twenty somethings living in an apartment complex" into the new millennium easily, which is tastefully done if you ask me. She shines in every scene that she is in and can hold her own with the old cast, who Ella has shared a scene with whenever they appeared on the show, if I am not mistaken. Sure, some people are screaming that Cassidy's talents are being wasted on Melrose Place, but where else can you see Ella Simms? And since Katie seems to be having fun with this character, why not let her enjoy playing Ella a bit more? Hmmm?
Exhibit C) – Unlike 90210, The Old Cast CAN Return!!!!
One of the pet peeves with me when the the revamped 90210 premiered was the conflicting angles new and old fans wanted the show to take. You had one side who wanted the original cast to feature into the new show, despite the series being centered around a whole new set of teens. Then you had the other faction who wanted the show to ditch all of the casting stunts with Shannon Doherty and Tori Spelling and focus solely on the new class of West Beverly High. With Melrose Place, you are dealing with adults and you wouldn't have to worry about trying to tie in old cast members with new high school children.
The return of original MP characters Jane Andrews (Josie Bissett), Jo Reynolds (Daphne Zuniga), Dr. Michael Mancini (Thomas Calabro), Sydney Andrews (Laura Leighton), and Amanda Woodward (Heather Locklear) didn't seem forced or irritably convenient to some extent. The new characters had a past with several of the old characters in a tried and true soap opera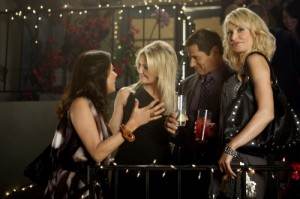 paradigm that was used wisely by the writers and shouldn't be taken so seriously by viewers. I mean, this IS Melrose Place, people! Aren't crazy, nonlogical incidents the reason we loved the original?!!? But the point is that since 4616 Melrose Place has always been a revolving door for new tenants, old characters can pop in on a regular basis and wouldn't feel out of their element without it feeling staged. The reunion scene in last week's episode is a great example since each original MP cast member played a part in an ongoing story line and really just didn't pop up out of nowhere for a ratings stunt/sweeps episode. In short, other faves might return if we just give this show a chance!
Exhibit D – What's Wrong With Fun TV?
With a lot of shows on TV today, there tends to be a trend of intricate plotlines with a sci-fi element thrown in. Melrose is one of the few shows left that gives you the goods at face value without making your mind explode in the process. Is intellectual TV bad? Hell no. But Melrose Place is that nice ice pack that you can apply to your head after watching an episode of LOST, which is highly needed in my book. So why not indulge yourself in one of the best guilty pleasures of 2010? Give in to the crazy… Give in to the crazy…
Closing Arguments
Melrose Place is what it is at face value: a campy, soap with all the fixings and enough substance to not make you want to leave your living room couch in shame for watching it. If you are new to it, there is nothing to fear, except your popularity dropping. For those who tuned in and tuned back out, I promise you that you do NOT know what you are missing!!!! So come on, people!
Melrose Place airs on Tuesday nights at 9/8c on The CW, right after 90210.