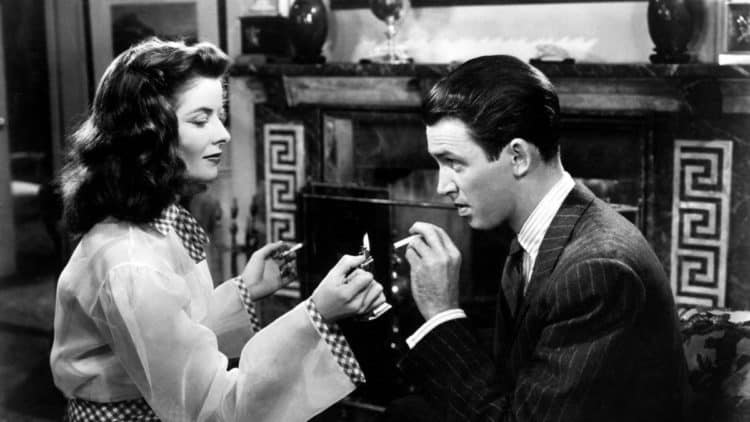 When talking about Star Power in the context of cinema, no light burned brighter than Katharine Hepburn. Her star simply shined the brightest in a galaxy full of them. A prime example of this can be illustrated by the 1940 romantic screwball comedy "The Philadelphia Story". Even when flanked by two of the most popular movie stars of all time, Cary Grant and Jimmy Stewart, it is Hepburn who leaves the lasting impression on the audience. What many people do not know however is that "The Philadelphia Story", in addition to being considered a classic piece of American cinema, represented the last, best chance for Katharine Hepburn to make her Hollywood comeback. A 1940 review from Variety magazine sums up Hepburn's immense contribution to the film quite succulently as it states, "For Miss Hepburn this is something of a screen comeback. Whether it means she has reestablished herself in pictures is something that can't be said from this viewing for she doesn't play in "The Philadelphia Story"; she is "The Philadelphia Story" (Golden).
Making her film debut in 1932, Hepburn became an instant Hollywood success story, taking home the Academy Award for Best Actress in a feature film in 1934 for only her third film, "Morning Glory". By the late 1930s however, following a string of flops (including 1938's "Bringing Up Baby" with Grant), Kate's star was considered to be fading. In addition to her box office woes, Hepburn "had built a reputation as a difficult actress who had a famous disdain for the press, earning her the nickname 'Katharine of Arrogance'" (Johnson). In mid 1938, Hepburn's career officially bottomed out as she was listed in the Independent Theater Owners of America's annual "box-office poison" list. Finally, when her studio, RKO, assigned her a part in the B movie "Mother Carey's Chickens", she had had enough and used her own money to buy herself out of her contract. Hepburn however had a plan to regain her silver screen stardom and it would manifest via the stage.
After Hepburn rekindled an old friendship with playwright Philip Barry, with whom she worked on Broadway with in "The Animal Kingdom", they decided to pursue one of Barry's ideas as the comeback vehicle for Katharine. Hepburn and Barry worked in concert for the majority of a Maine summer. The fruits of their labor resulted in the Broadway smash hit "The Philadelphia Story". Hepburn took to the Broadway stage as Tracy Lord 417 times to terrific fanfare. Her comeback was not complete though as she never had let Hollywood escape her crosshairs. Hepburn knew "The Philadelphia Story" was always destined to be her Hollywood comeback story so "with help from ex-boyfriend Howard Hughes, Hepburn acquired the film rights. She got MGM — the studio of wealth and privilege — to make the film" (Johnson).
Since Hepburn acquired the film rights, she retained creative control and even had "input into Donald Ogden Stewart's Oscar-winning screenplay adaptation and handpicked George Cukor to direct" (Johnson). With lines in the film such as "Tracy sets exceptionally high standards for herself. Other people aren't as apt to live up to them", it should surprise no one that she helped write the screenplay. Hepburn even had casting control. Originally, she requested Clark Gable and Spencer Tracy for the roles of the two male leads but when she learned they were both unavailable, she just had to make do with the likes of Cary Grant and Jimmy Stewart.
Hepburn's brilliant performance is summoned by her ability to give the audience a firm dose of her well established persona and suddenly inject it with genuine vulnerability. It is Hepburn's quality that is most important to the film because her performance encapsulates the biggest departure from her persona. At a time when "top stars such as Katharine Hepburn were denounced because fans supposedly found [her] to be too sophisticated, highbrow, and elitist" (Belton), she gave the audience Tracy Lord, a woman who, by her own admission, does not want to be worshiped, "I want to be loved". In Tracy Lord, Katharine Hepburn introduced the element of humanity to her gruff façade of acid tongued strength. This is in great contrast to the performances of her marketable co-stars. At the time of the film's release it was noted that "as for Cary Grant [and] James Stewart there's little to be said that their reputation hasn't established" (Golden). Grant and Stewart were not just fantastic actors, but virtual box office gold and still "the auteur of "The Philadelphia Story," one of the greatest comedies of the old Hollywood studio system, is its star, Katharine Hepburn" (Johnson).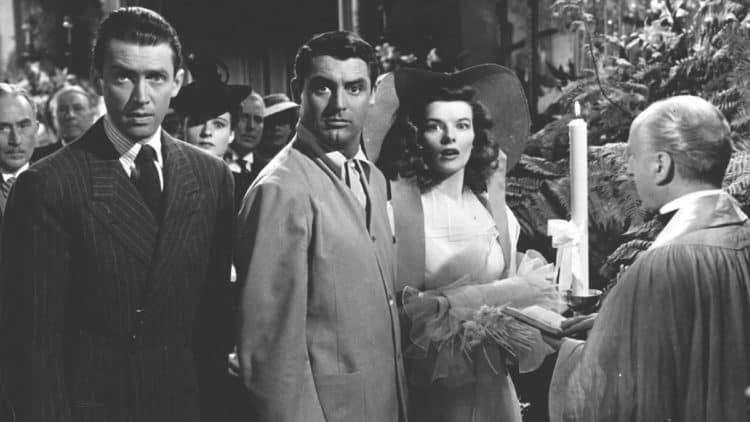 The strength of Katharine Hepburn is precisely that, strength. In "The Philadelphia Story", she let that strength weaken in the most human of ways which is why audiences related so well and identifies so strongly with her performance. "The Philadelphia Story" presents Katharine Hepburn as "The perfect conception of all flighty but characterful Main Line socialite gals rolled into one, the story without her is almost inconceivable" (Golden). Katharine Hepburn was fiercely independent and not as interested in acquiescing to the role of grateful studio servant that so many of her peers were only so eager to accept, "nevertheless, over six decades she crafted an unconventional, multifaceted persona, one Hollywood never quite knew how to deal with yet ultimately embraced" (Legacy.com). Speaking strictly to "The Philadelphia Story", Katharine Hepburn conveyed "just the right amount of beauty, just the right amount of disarray in wearing clothes, just the right amount of culture in her voice – it's no one but Hepburn" (Golden).
The massive success of The Philadelphia Story was undeniable. "The result is an absolutely perfect movie, a box office smash that received six Academy Award nominations" (Johnson) including one for Hepburn herself for Best Actress in a Lead Role. The fact that Katharine Hepburn's vehicle for career resurrection was a movie she starred in based on a play she helped write about a socialite that did not get along with the press was not mere coincidence. Indeed Katharine had her Arrogance back and it was well deserved. She was back atop the long list of Hollywood royalty where she would remain until her death in 2003 at the age of 96. Along the way, she would amass three more Best Actress Oscars, never attending a single ceremony stating that "for me, prizes are nothing, my prize is my work".
Katharine Hepburn possesses a unique suite in the pantheon of the greatest movie stars of all time. She was undoubtedly one of the most natural, talented, and gifted actors ever to grace stage or screen and yet "she once characterized acting as an idiot's profession". Consider for a moment the scope of her unparalleled career: She was nominated for a record 12 acting Academy Awards. She won a record four Academy Awards for the lead role. Her first Best Actress Oscar was awarded in 1934. She won her last Oscar for Actress in a Lead Role in 1982. Katharine Hepburn truly personified prolonged excellence and possessed a capacity for expression that was limitless and never acknowledged the meaning of the concept of boundary. However, for generations of movie viewers, the true greatness of Katharine Hepburn would have never been sincerely realized had "The Philadelphia Story" not of also been Katherine Hepburn's Hollywood comeback story.
Works Cited:
Belton, John. American Cinema/American Culture. New York: McGraw-Hill, 2013. 108. Print.
Golden, H. (November 26, 1940). The Philadelphia Story. Retrieved September 17, 2018 from https://variety.com/1940/film/reviews/the-philadelphia-story-1200413300/
Johnson, A.G. (February 14, 2018). Katharine Hepburn's comeback, 'The Philadelphia Story'. Retrieved September 17, 2018 from https://www.sfgate.com/movies/article/Katharine-Hepburn-s-comeback-The-12613961.php
Legacy.com (2013). Retrieved September 16, 2018 from http://www.legacy.com/news/celebrity-deaths/article/katharine-hepburn-box-office-poison