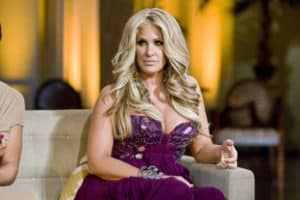 When it comes to Kim Zolciak-Biermann, the question for fans and bloggers has been when will she leave The Real Housewives of Atlanta this season rather than "if." Well, now you have your answer as InTouch magazine and Zolciak-Biermann herself have come clean on the latest worst kept secret to come from the halls of Bravo.
Zolciak, who has been with the show since its first season, will make her last appearance on the wildly popular Bravo docu-soap during the Dec. 2nd episode, where Kim will be brought to task for ditching out on the women before another trip out of the country. If you pay close attention to the season five trailer, you can see Kim's costars Kandi Burruss, Phaedra Parks, Cynthia Bailey, and even NeNe Leakes call the "Tardy for the Party" singer out for not wanting to film with them, which leads to a huge fight and Zolciak's exit, which will involve Kim shoving a cameraman's camera out of her face. In short, her exit will be explosive and ugly.
But as we all know Kim, she will have an explanation for everything, and this time is no different as she told InTouch the reasoning behind her not wanting to go with the group to Anguilla. "They couldn't understand why I couldn't go," Zolciak told InTouch. "Fighting is what we're known for, but I've never disagreed with a pregnant woman. It's not one life you're dealing with. It's two." Kim went on to say how despite being wrung through the drama ringer for the five seasons of the show's existence, this fight was the one in which she had to break ties with the show. Wow…
Now that we have the basics, here's my take on the situation: Kim will not be missed in my book. If rumors about her own spin-off, Don't Be Tardy for the Wedding, getting picked up full-time is true, then Kim was ready to bounce from the Real Housewives of Atlanta as soon as Andy Cohen had her sign the dotted line to her own reality show. The only issue that grinds my gears was the scramble to debunk what most fans and bloggers knew from gate once the season five promotional photos were released to the press without Kim in sight in the pics. Again, this was the worst kept secret from Bravo's offices and sites like Straight From the A and Funky Dineva reporting about the cast's shenanigans nonstop doesn't help on the secrecy meter either.
Well, so long, Kim! Hope you and your family find the happiness you've always wanted. Maybe you and Sheree Whitfield could start an Ex-Real Housewives of Atlanta YouTube page or something. Wait. Don't do that.
Are you guys going to miss Kim Zolciak and her museum of wigs?
Source: InTouch Magazine
Photo: Bravo/Wilford Harewood