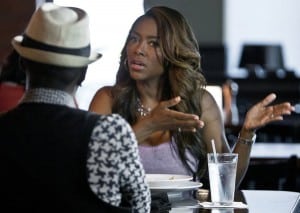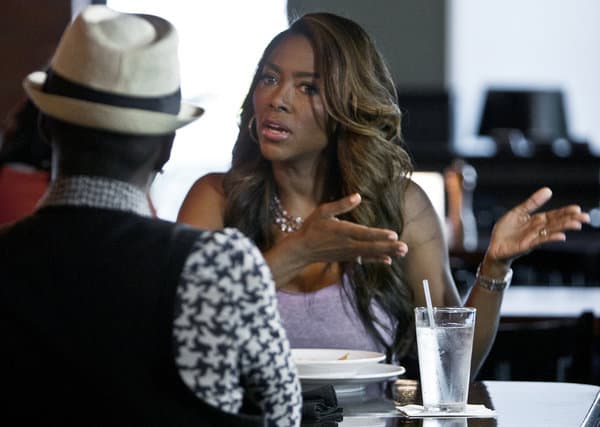 Well, well, well… Look at what we have here. Looks like Kenya Moore of The Real Housewives of Atlanta will need the services of Judy Smith real soon to bounce back from this potential scandal that will surely blow up in her face.
According to Funky Dineva and the popular radio show Frank and Wanda, which is featured on the Atlanta radio station V103, Walter Jackson, Kenya Moore's boyfriend/baby-making accessory, appeared on the show this morning and revealed to all of Atlanta that he was actually acting as Kenya's boyfriend on the show. But that's not all. He also admitted to dating Kenya, but that was three years ago and lasted three months. In other words, consider Kenya Moore's storyline on The Real Housewives of Atlanta completely shot to hell from here on out.
The Doll went on to report how Jackson disclosed how Kenya contacted him from L.A. once she was cast on the show to set up their "business arrangement," which he was a little leery about at first. "It's like acting," Kenya allegedly assured her faux beau. Poor acting, if you ask anyone who's watched the show since the season started, because what man would let his woman flirt with another woman's husband in front of him and not snap about it?
Plus, there is the issue with Bravo, who I believe had no clue of Kenya's duplicity, despite most of this season looking blatantly scripted already. But this is the fourth time that I know of where Bravo will have to do some serious damage control to save face. The first being the whole Salahi/Gate Crashing scandal from The Real Housewives of D.C. and the second being Marlo Hampton's wrap sheet debacle, and last year's death of Russell Armstrong. And we all know Bravo does not take kindly to scandal.
Boy, here's hoping the reunion will be too awesome come next February, because everyone has some ammon to sling at the former Miss USA. Also, did anyone else notice the pattern other than Kenya's lies from this report? V103, three years ago, and three months? My mom always told me that what you send back, you get threefold, and I'm betting Porsha Stewart and Phaedra Parks are having a field day now. So, Kenya's about to get slapped with two more bombs, meaning she better take cover and pray like hell Andy Cohen uses this season's ratings and not her messiness in his decision to let her hold a peach come next season.
To get the full scoop, check out Funky Dineva's website here, and check out my review of Kenya's thirsty ass on last night's episode of The Real Housewives of Atlanta here.
Source: Funky Dineva
Photo Credit: BravoTV.com