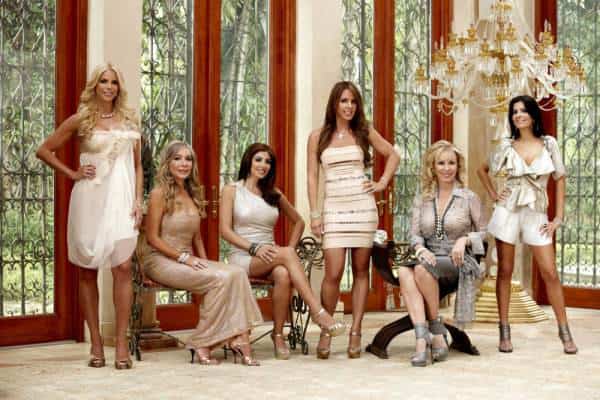 Maybe I've been spoiled tremendously by the excess excellence of the Real Housewives of Beverly Hills, because tonight's premiere of Bravo's Real Housewives of Miami only left me unimpressed and yearning for another Gratuitous Giggy Moment to happen at any moment.
When I wrote about being "blasè" over the announcement of RHMIA, I didn't know that I was actually writing my review of the pilot without actually seeing the episode. My original sentiments remain the same surprisingly, because I seriously thought my initial reaction to the show's announcement would all be for naught and I would end up worshipping the ground these women walked on. Instead, I couldn't help but roll my eyes several times as the women tried to be both civilized and provocative at the same time and failed horribly at the task. Even the opening credits lacked flair, which is a given after the entertaining credits of RHOBH made the previous installments of the Housewives franchise seem like bad iMovie projects. Sigh…
Now, that doesn't mean that RHMIA is boring. There were some points during the night that piqued my interest, but they were few. Actually, the parts of the show tht I did enjoy involved Adriana De Moura, who was kind of getting tossed around as if she was a ditz by Cristy Rice and Larsa Pippen. Another funny thing? Cristy and Larsa would've fit better on VH1's Basketball Wives, because their meanness (well mostly Cristy's) is on the level of Shaunie O' Neal's crew and grated my nerves last night. So Adriana got on the catwalk after the fashion show was over. And? At least she did something entertaining. Get it straight, girl. This is the Real Housewives. Not Bad Girls Club. Give us something to work with.
Alexia Echevarria and Lea Black also seem like they will provide some of the heat that Bravo promised us, especially with Lea's penchant for pot stirring, which can come in handy in the 'drama' aspect of the show. Just not too keen on her "collecting people," especially fallen black celebrities. As for Alexia, I still don't know much about her except that she's more worried about her underage son's weight gain than sleeping with his girlfriend on a romantic cruise. While that raised eyebrows, at least it was interesting… Marysol Patton's name and career screamed soap opera material, but she came off a bit too sweet and innocent like a super toned down Kim Richards. Although, Marysol's mother Elsa might become this show's staple secondary character as she stole the entire scene she appeared in with claims of not being a Victorian Era woman and that sex talk is fair game for her. Elsa is highly opinionated and we all know that trait cause friction amongst the Real Housewives sisterhood. Now if only her daughter will take after her…
Even though I touched on Larsa and Cristy above, I just have to say that I'm not buying what they're selling. Larsa can become likeable, but if she remains in a Bobbsey Twins pack with Cristy, my tolerance levels might plummet. Not to say that Cristy is completely unlikable, but I was not dazzled by her rudeness. At least for now.
So again, maybe I was pampered by the divas of Beverly Hills and the wisdom and opulence they bestowed upon us, because I am still waiting for some fire to ignite in my ass concerning the new clique of Real Housewives to hit the scene.
What about you? Your initial thoughts of the Miami Housewives?