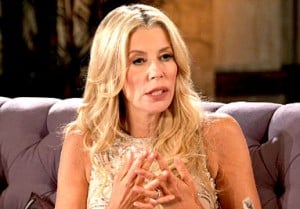 Man, so much went down during tonight's The Real Housewives of New York City reunion that I have no clue where to start. LuAnn? Bonkers. Aviva? Delusional with a side of bipolar. Heather? Fearless. All the women had their time to shine on the couch, but there were a few moments of the night that were pure gold and this is only the first part of the reunion.
Countess LuAnn vs. Princess Carole aka the "Royal Wars"
While LuAnn came out swinging towards Carole – and surprisingly Heather – she really came off as an even bigger, gaudily snob than before. Let's face it, LuAnn wasn't that upset about the snide comments Carole made to her, because if that was really the case, then Alex McCord, Ramona, and even Bethenny Frankel would have taken LuAnn's haughtiness down a long time ago. What really fired up the Countess was how Carole pretty much called LuAnn out for asking Ranjana and Naeem Kahn, Carole's fashion designer friend, if she could wear their clothes, like a desperate groupie. LuAnn's ego was bruised to the core over the thought of someone declaring she wasn't worthy of wearing a dress made by the man who has designed people like First Lady Michelle Obama. The audacity!
Hey, Heather! HOLLA!
Tonight, Heather Thomson completely won me over and any animosity I had toward her at the beginning is officially eradicated from my mind, body, and soul. Heather not only called out LuAnn for being blatantly unfair when it came to not listening to and accepting criticism, but she kept it 100% with all the ladies when they came to her with the B.S. Even when Cohen brought up the spat between Heather and Ramona, the Yummi Tummi creator still gave a clear and concise, non manufactured answer to how she (and Ramona) handled the situation. She didn't back pedal (Carole) and she didn't utter fake ass apologies either (Aviva). Heather, I have nothing but love for you at the moment. Hope it remains come next week!
Aviva Apologizes, But It Was A Day Late and a Dollar Short
The moment of truth came when Andy Cohen brought up the real drama salad of the season, and that was the beef between Aviva Drescher and Ramonja. While Aviva apologized again and again for her actions, Ramona and Sonja were not buying it one bit. Why? Because, as Ramona and Sonja pointed out, Aviva was only apologizing because the fans lit a firestorm under her ass for her erratic behavior. If that wasn't a Route 44 sized class of truth, I don't know what is. Plus, Ramona and Sonja also pointed out how Aviva was still trashing them in the press, her Bravo blog, and in interviews while the show was on. So can you really blame them for not buying Aviva's cry for acceptance so late in the game?
Other Moments of Interest
– Is it just me or did Carole compare joining The Real Housewives of New York City to going on assignment for a news article for an esteemed publication like The New Yorker?
– After Aviva and most of the panel declared that her phobias had expired, Sonja uttered the phrase of the night: "But they completely renew by the minute." Zing!
– I seriously don't get how Andy Cohen doesn' have a laughing fit sitting in between these women as they throw jabs at each other like monkeys happily throwing crap. I wouldn't be any good up there on that stage after laughing every puff of air out of my body. An oxygen tank would have to be on standby every hour on the hour.
– The Harry Dubin segment was interesting, only because Aviva was about to channel her inner Dragonball Z and go Super Saiyan on Sonja for stumping Aviva on claiming to know Ms. Morgan's business.
Compared to current The Real Housewives of New Jersey Reunion running on Bravo at the moment, The Real Housewives of New York City managed to make those women look like a pen of pitbulls in a cage fight. Â  Â And if the previews for next week's conclusion to the RHONY reunion are any indication, the drama is only just revving up.
So who do you think came out on top this week? What are your thoughts on the reunion?
Photo Credit: Bravo