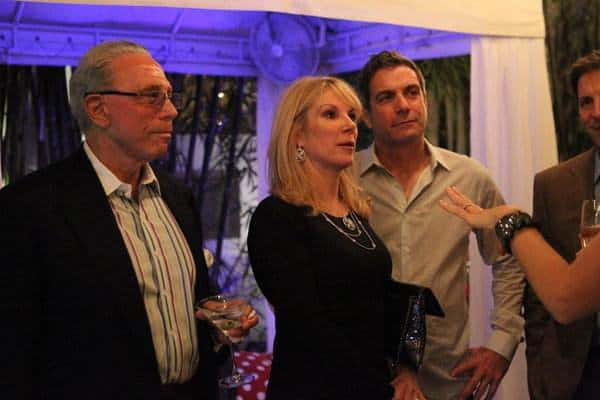 This past Monday, The Real Housewives of New York City introduced the world to George Teichner, Aviva Drescher's horn dog of a father on, who has no qualms about talking about his sex life in front of his daughter. Or anyone in who is unfortunately in his vicinity. With that said, I can't knock the guy for his vigor, but there is a time and a place for that type of talk and it's not at anyone's dinner table.
Aviva also felt that Sonja and George would be the perfect hookup during their trip to Miami. While I can sort of see why Aviva would want to pair Sonja up with her dad, I just think it's weird for Aviva to want to pair Sonja up with her dad. Apparently, Aviva didn't take into consideration the awkwardness said pairing could bring to future parties and family reunions, but lucky for her, Sonja doesn't look interested. In fact, it seems that Sonja has met her match in George when it comes to sexual innuendos being discussed in the most inopportune moment. Take a peek:
Yikes! And is it more does George look like an older, hornier Rich Wakile from the Real Housewives of New Jersey? Anywho…
While the next clip is George free, the theme of age and sex still comes into play as Sonja interjects several sexual jokes into a facial lesson by one of Carole's friends. George will probably get a thrill out of this clip when he sees it.
Hmm… Sonja might be Carole's next target to take down. Never act a fool in front of Carole, because she will get in that ass…
One more prediction, or question rather: Could George be the catalyst that starts the river of bad blood between Aviva and Ramona & Sonja? It wouldn't surprise me if Sonja says something about George that Aviva won't take kindly to, while Ramona escalates the incident by picking Sonja's side in matters and adding her two cents in for good measure. Whatever the reason, I can't wait to see the fireworks explode between those three.
What is your take on George and this upcoming episode of The Real Housewives of New York City?
Photo Credit: Bravo/Charles Trainor