On last night's episode of Bravo TV's The Real Housewives of New York City, newcomer Carole Radziwill had a new bone to pick with co-star and '˜frenemy'LuAnn de Lesseps, only this time, she called out what she believed to be a serious lack of class on the Countess's part.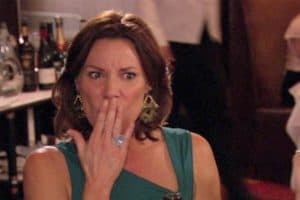 During a wine tasting, LuAnn used the term 'Indian'while speaking about Native Americans. Carole, who was seemingly very offended by this term, pointed out that it was both outdated and offensive to a 'group that has been discriminated against and abused.'She went on to make a slightly bigger jab at LuAnn by stating that she thought 'everyone over third grade knows not to say '˜Indian."
LuAnn, who actually has a Native American ancestry, is not taking these accusations lying down. In her Bravo TV blog, she seemed to indicate that Carole's extreme defense of the Native American (or American Indian, if you are LuAnn) culture was motivated more by a need to criticize LuAnn than to actually stand up for the rights of humanity. To further defend her use of the controversial term she stated:
Let the facts speak for themselves. The US Census Bureau surveyed people of various races and what they liked to be called and over 49 percent of American Indians preferred to be called American Indian while 37 percent said that Native American was their preference. Furthermore, the museums dedicated to American Indian heritage in Washington D.C. and New York City are both called the Museum of the American Indian. I think the Indian people have spoken and Carole doesn't seem to be listening.
As a person with Native American ancestry myself, I was not personally offended by the comment, but to each his own. How do you feel about it? Was Carole simply looking for a reason to call LuAnn out or did the Countess show a serious lack of class?
The Real Housewives of New York City airs Mondays at 9/8c.