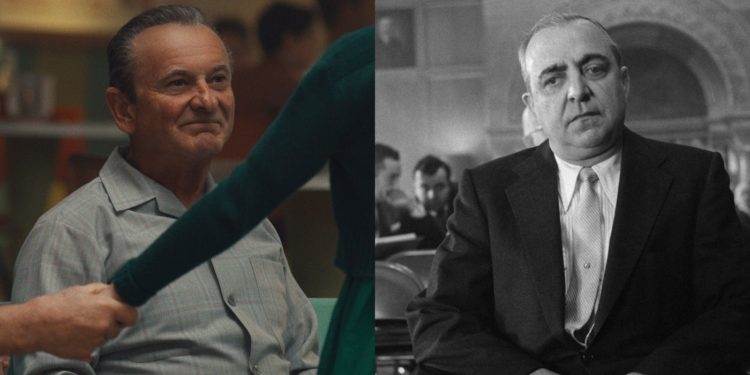 Russell Bufalino was considered by many to be a mob boss. From 1959 to 1989, he was the man in charge of the Bufalino crime family, which is a crime family belonging to the Italian-American Mafia that continues to operate in Northeastern Pennsylvania. With that said, Bufalino tends to be better-known to a lot of people because of his suspected role in the disappearance of Jimmy Hoffa.
For those who are curious, Bufalino was born Rosario Alberto Bufalino in the comune of Montedoro on the Italian island of Sicily. However, it wasn't too long before he winded up in the United States, seeing as how he was born in 1903 while his family immigrated in 1906. Eventually, the Bufalino family settled in Buffalo, NY, which was where Bufalino became a criminal. Soon enough, he had become involved with a wide range of criminal activities that included but were not limited to theft, extortion, and gambling. Moreover, when Prohibition came into effect in 1919, Bufalino was one of those who became involved in the very lucrative business of bootlegging.
Besides becoming more and more experienced, Bufalino became better and better-acquainted with a wide range of other mobsters in this period. Some of those mobsters wound up becoming influential figures in the Bufalino crime family. Meanwhile, the others winded up becoming influential figures in crime families situated throughout the East Coast of the United States. On top of this, it should be mentioned that Bufalino married Carolina Sciandra, whose family was a long-established part of the Italian-American Mafia. Unsurprisingly, these connections played an important role in enabling Bufalino to reach his later prominence.
By the early 1920s, Bufalino had started working with another mobster named Joseph Barbara. Said relationship proved to be fruitful for them, with the result that Bufalino moved to Barbara's territories. By 1940, Barbara had become the boss of the Northeastern Pennsylvania crime family, while Bufalino had become his underboss. The Northeastern Pennsylvania crime family was never the biggest of the crime families that could be found out there, but it had a strong relationship with both the Buffalo crime family and the Bonanno crime family, thus providing it with a fair amount of influence in the Commission that governs the Italian-American Mafia.
In 1959, the passing of Barbara meant the elevation of Bufalino. By the 1960s and 1970s, he had become a powerful figure with a considerable stake in a wide range of both legitimate and illegitimate activities. For example, Bufalino's crime family was involved in real estate. Likewise, Bufalino's crime family was involved in everything from gambling to labor racketeering. Said state of affairs started to change in 1977, which was when Bufalino was indicted for threatening to kill a man named Jack Napoli for failing to pay a $25,000 debt to a New York jeweler. In 1978, he was convicted, thus resulting in a four-year prison sentence. When Bufalino was released in 1981, he was indicted a second time for conspiring to kill Napoli, thus resulting in a ten-year prison sentence. Thanks to this plus a federal investigation of the Bufalino crime family, its influence declined from its previous heights. Bufalino's death came in 1994.
Why Has Russell Bufalino's Name Popped Up in Recent Entertainment News?
Recently, Russell Bufalino's name has popped up in entertainment news because of the Martin Scorsese movie called The Irishman. In short, The Irishman is centered on a man named Frank Sheeran, a WW2 veteran turned labor union official. However, Sheeran isn't remembered for being a labor union official so much as a corrupt labor union official. In particular, it is worth mentioning that the author Charles Brandt claimed that Sheeran confessed to being the person who killed Jimmy Hoffa. Supposedly, he, Hoffa, and others were driven to a house in Metro Detriot. While the others drove off, Sheeran went into the house along with Hoffa. This caused Hoffa to realize that the whole thing was a hit, but it was too late to prevent Sheeran from shooting him in the back of the head. After which, the body was burned in either a funeral home or a trash incinerator.
The claim is noteworthy because even now, Hoffa's disappearance remains a mystery. Those who are curious should know that Hoffa was a labor union leader who was seeking to reclaim leadership at the time of his disappearance. Apparently, his leadership bid was seen as a threat to the Italian-American Mafia's interest in the pension system, which is why he was assassinated. However, even though the case has been investigated for years and years, there has never been a clear conclusion about what happened to Hoffa, thus resulting in a slew of stories about what may or may not have been. For instance, some people might have heard the rumor that Hoffa was buried in Giants Stadium. However, said rumor has been proven false. First, Mythbusters actually used a ground-penetrating radar to investigate the rumored location of Hoffa's body, which turned up nothing. Second, Giants Stadium was demolished in 2010, which turned up nothing on that occasion either.
Further Thoughts
Regardless, The Irishman is based on Brandt's book, which proposes one scenario for the assassination of Hoffa that featured Bufalino's involvement. Perhaps unsurprisingly, the book hasn't exactly been met with universal agreement. In fact, it should be mentioned that while bloodstains were indeed found in the house where Sheeran reportedly claimed to have killed Hoffa, that bloodstains didn't match Hoffa's blood. As such, it would be a serious exaggeration to say that The Irishman is a perfectly accurate depiction of what really happened, though to be fair, it should be noted that the movie never claims to be such. Unfortunately, it seems likely that the disappearance of Hoffa is a mystery that won't be solved anytime soon, meaning that interested individuals will continue to debate and discuss it in the times to come. This is particularly true because those who are likely to have been involved have passed on, meaning that the passage of time has obscured the case more and more.