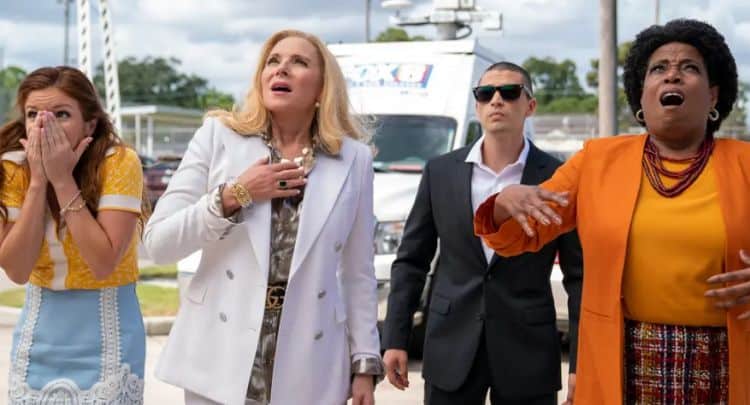 Fox knows when they have a hit on their hands, but it seems that they didn't think that their first season show "Filthy Rich," was one of them. The show follows the lives of a very wealthy, very televangelical family whose over-the-top lives are thrown for a loop when dad dies in a plane crash. Much like the family in the hit series, "Schitt's Creek," this is a family accustomed to the much finer things in life, and they're not sure how to handle the fact that everything they've ever known has suddenly been thrown into the air without any warning. However, this might be the only thing these two shows have in common. For one, "Filthy Rich," was canceled only five shows into the new season, and it seems that some fans want to know why. If you've been following along, you're going to need to prepare yourself for a combined season/series finale…and we'll tell you why.
The Premise
When Eugene Monreaux is killed in a plane crash, his wife (Sex and the City star Kim Cattrall) Margaret, is left to pick up the pieces. Unfortunately, her wealthy husband wasn't quite the good guy he liked to pretend he was. the family quickly learns that there is nothing much she can do about the fact that she and her kids are about to lose their wealth and their fame because daddy dearest had three children out of wedlock with someone who was not his wife – and he added them to his will prior to his passing.
Now the family is dealing with three more adult kids who want a piece of their father's estate. The other problem is that this family made their fame and fortune based on their Christian values, and the world cannot find out about the fact that the man behind it all had three illegitimate children. This family would lose its reputation, fortune, and business, and it's up to the mother to take care of this before the world finds out what is going on. She needs to rely on her southern charm and her ability to get what she wants in life to keep her husband's lucrative business in business so she can keep earning the kind of money she's accustomed to – and her kids, too – but these three kids are making life harder and harder as they are welcoming themselves into the family as they've always been a part of it. It's a lot.
Rising Production Costs are To Blame
It might not be that the show itself was a dud, but it might have everything to do with the overwhelming production costs. As so many states and countries are locked down due to the illness called COVID-19, production costs are too much for the network to handle. They don't want to spend this much money on a show. It's harder to film, there are added costs involved with keeping each cast member and crew member healthy and safe, and the cost is too much for the network. They canceled the show because of the costs of the show, and that's what you have to thank.
Some Hope in the Future
Some people like the show enough to hope that it might be picked up by another network. It's not uncommon in this day and age for one network to decide they are finished with a series only to see the series picked up by another network. It's happened before, and there is always a chance it might happen again. However, we cannot make any guarantees or promises that this is the case. However, we would not be shocked if another network did – eventually – see if they can salvage what is left of the show and make it their own. Would the cast come along? We aren't sure, but work is work and this is such a trying time for many, after all.
We have no idea if someone will pick up the show and turn it into something else at this point, but we know that there is always a chance it might happen. In the world of 2020, anything can happen – and we've all seen it happen this year. So, mourn the loss of what could have been a great show, but also hold out some hope that it might be cancelled right now, but it might not be cancelled forever. If this year has taught us anything at all, it's that anything can change on a dime and the world just doesn't know it.