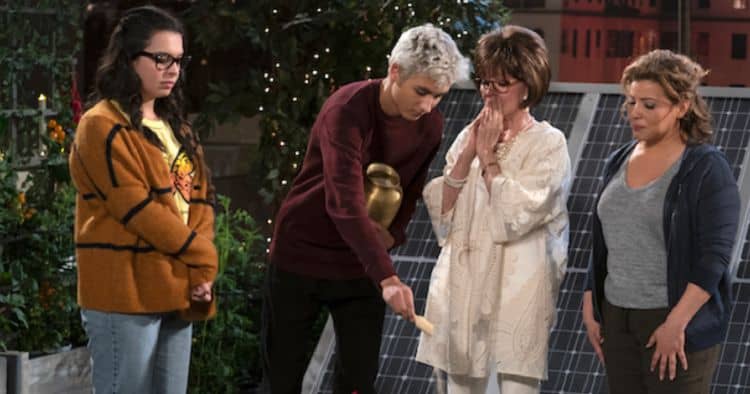 It's not every show that gets canceled more than once, but One Day At a Time has just been given the boot once again after being booted back in 2019 and then stalled thanks to the onset of the coronavirus. If there was ever an omen that it's time to simply accept that things aren't working out this could be fate saying that it's just not meant to be. But a lot of people know what that means since those in show business aren't always willing to go by the edicts of something like fate unless it's working in their favor, and then the general idea is that things are meant to be going this way. But being canceled twice kind of indicates that if there was another chance given to the show that the third strike would be the final straw, meaning that nothing, not even a spinoff, would be able to save the idea that people wanted to try yet again. Why this is happening is hard to say other than the fact that Netflix does tend to cancel a lot of shows and it's easier to explain why a bear does their business in the woods. Yeah, it's a weird analogy, but it's one that kind of fits since Netflix doesn't always give a solid reason for letting go of shows.
Right now it sounds as though the show is being shopped around to see where it might be able to land, but the fact is that it's hard to say if anyone else is going to want it or will want to try and expand on it. From an audience standpoint, it's had a pretty good reception and if the critics agree that it's worth looking at then it's very possible that someone might show a bit of interest if the price is right. Having two cancelations on the record doesn't sound like something that a potential buyer would miss though since it does make one cautious, or at least should since there's usually a decent to good reason for canceling a show unless of course, we're talking about Netflix, who's made it a rather irritating habit when asking many people since watching a favorite show getting axed is never fun, especially if there's no discernible reason why other than the fact that it takes a good deal of money to keep some of these shows going. Pop, where the show landed after Netflix, has likely given their canned excuse of why the show has been canceled, but it's still not quite likely to satisfy anyone. ODAT doesn't appear to be one of those high-dollar shows that might have required more and more to keep up with the kind of material it was presenting though, as it likely wasn't that expensive. But somehow money becomes the bottom line a lot of times since money is what makes everything work in one way or another.
Whether we'll end up seeing the show pop up again is uncertain at this time but it's likely that people will accept the ending since it does sound as though everything's been wrapped up as much as it can be and the fans will hopefully be satisfied with the way things are going to be left. While the frustration of losing a popular show is bad enough, even for a little while, leaving things on a cliffhanger is absolutely maddening since, without any guarantee that the show will come back, a cliffhanger leaves people wondering what happened to the main characters and how the storylines they were following finally played out. With this show, it does sound as though things are going to be laid to rest in a way that will be a little more appealing and won't have people rolling their eyes wondering why in the world the story was cut off at just the wrong moment. That's a small kindness at least, but seeing the show come back at some point would make a lot of people happy if the chance ever arises, since there have been a few shows that have been canceled in recent times, and a lot of people have been taking notice of this fact since there hasn't been a whole lot of solid reasoning behind the cancelations since if money is the only reason why shows are being taken off then perhaps the budget needs to be reworked. It's easy to say this obviously, but after so much time in the entertainment industry, one might figure that those behind the camera might be able to figure out how to produce a show for less money so as to keep it around for a bit longer.
That's an idealistic way to look at it, but unfortunately, it's not realistic. There are simply too many factors to consider when it comes to keeping a show or canceling it, and unless a person knows the hows and whys of the process it's bound to be a bit confusing and more than a little frustrating.